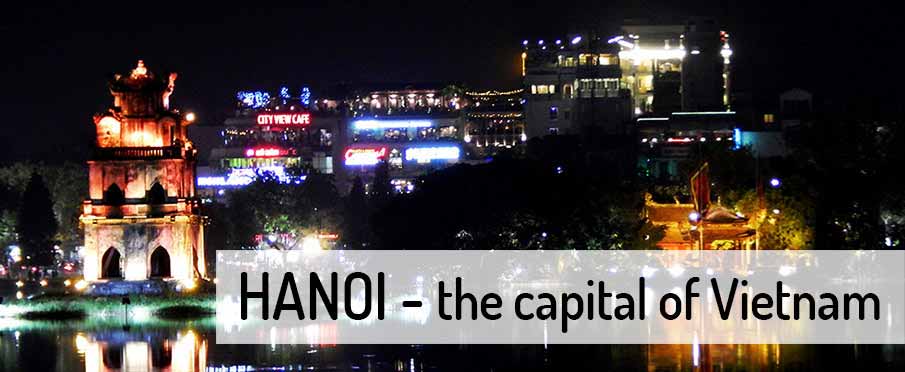 Information about Hanoi 
Historical sites in Hanoi
What to watch in Hanoi
Where to shop in Hanoi
 How to move in Hanoi
 Weather in Hanoi 
Accommodation in Hanoi
Interesting places in Hanoi
Map of interesting places
Book a tour in Hanoi
Hanoi is one of the most interesting cities I've visited in my life.
Hanoi (Hà Nội) will be the first meeting point in northern Vietnam for many travellers. Hanoi is a place that is still trying to retain its original and distinctive rich history, heritage and attractiveness , in some contrast to Ho Chi Minh City. The whole of Vietnam is experiencing great economic growth and the country is rapidly changing, similarly the city is undergoing a large transformation. New housing and commercial areas are growing up, and new branded stores are opening mainly in the city center.

My writing style is not that of a "cool blogger" where I drink coffee.
I'm not a "cool blogger" , talking endlessly about myself, I'm looking to provide only verified useful information. I'm not interested in a narrators navel gazing story about drinking coffee or changing a swimsuit. Please try to read the whole article, then you'll learn what to watch out for in Hanoi, what to visit, how to get from the Noi Bai International airport to the city center, and something about the weather in Hanoi. In every article about interesting places you will find a detailed map marked with places in the area. What interested me in Hanoi? the special communist-capitalist subculture, the historical monuments, the lively life of the residents, and the excellent street cuisine, cafés and restaurants.

A vibrant city with perfect kitchens – enchanting you with their culinary charms.
Hanoi is the capital of Vietnam, with approximately 8 million inhabitants. It's the second largest city of Vietnam and with its central location is the best springboard for visiting the region of northern Vietnam. Trains travel north every day destined for Lao Cai City which lies approximately 10 km from the border with China. From Lao Cai city you can go west towards the popular site of Sapa and Lai Chau and east towards Bac Ha and Ha Giang. Trains from Hanoi also serve the provinces of Lang Son and Ninh Binh , and reach Ha Long to the east and to the south of Vietnam (Ho Chi Minh City).


The history of Hanoi is extremely rich and has survived to this day.
Before 1010 Hanoi was known as Thang Long, in 1831 this city was renamed to Hanoi. In 1883 it was the capital of the French protectorate (Tonkin). Becoming the capital of the Democratic Republic of Vietnam happened in the years 1954 – 1976 and the capital of the united Socialist Republic of Vietnam happened in 1976. Large areas of Hanoi were built during the French occupation. This was reflected in French architecture, which can be seen here.

The main commercial center is Old Quarter with the famous Hoan KiemLake.
You can't miss a visit the Old Quarter, right here you can feel the atmosphere of Hanoi, unwind with a stroll around the lake and you'll find the perfect restaurants with local cuisine. Almost always you will see the lively daily life of the Vietnamese, tai chi, dancing, playing badminton or crawl. Skateboards and roller skates are also not an exception. In the Old Quarter there are plenty of shops with different goods from food to clothing. Hanoi is also a cultural center of Vietnam.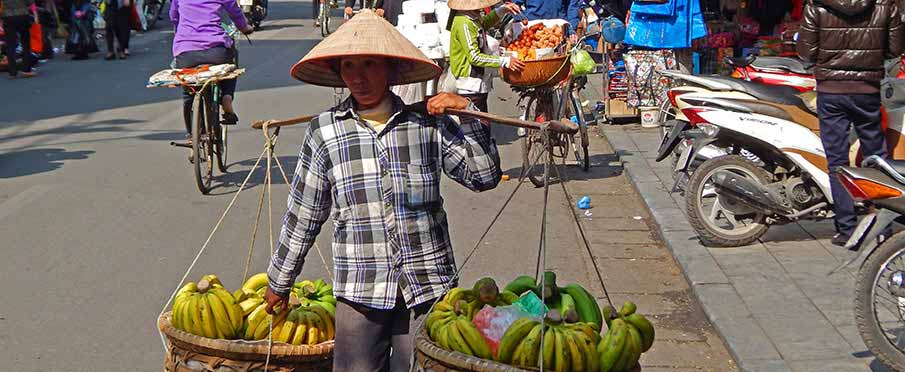 Old Quarter has a wide range of accommodation for the travelers.
There are a lot different categories of tourist accommodation. Most of them are very decent and a very good starting point for future visits to Hanoi, the best place for eating. Prices are low and start from 150,000 Dong. You can also book luxury and expensive hotels. Look at the following menu and book accommodation now. Agoda offers a very wide range of quality accommodation with very good prices in Hanoi.

A renowned place for nightlife and sitting with beer and food is Bia Hoi corner in the Old quarter. Hundreds of plastic chairs, beer for 5000 Dongs, and the local specialties in the local atmosphere are unforgettable. Hanoi is good for walking, there are no hills, but you have to watch out for motorcycles.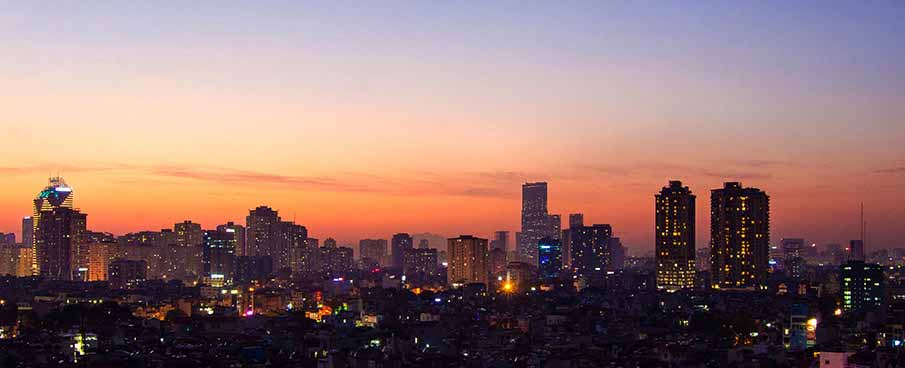 Hanoi is a wonderful place for a demonstration of French colonial architecture.
Paradoxically despite the communist regime there are a lot of luxury shops of the world's leading manufacturers of various goods. There are great differences between Hanoi and Ho Chi Minh city, the behavior of the population, a weak night life, slower construction of new buildings, the economically strongest city is now Ho Chi Minh (Saigon). Hanoi is quieter, more intimate than Ho Chi Min. In Hanoi an effort has been made to maintain the original character of the city. But also in Hanoi new buildings are growing and the city is slowly being upgraded.
It is a worth a visit the Hanoi historical monuments and sights.
In the western part of Hoan Kiem Lake in Hanoi you will find the most interesting monuments, that you can see here. Hanoi Cathedral, Ho Chi Minh Mausoleum and Museum, One Pillar Pagoda, Ho Chi Minh stillt house, Temple of Literature, The Imperial Citadel of Thang Long, and Tran Quoc pagoda, Quan Su Pagoda (a short walk from here is the main train station), Hanoi Ceramic Mosaic rural, Vietnam museum of ethnology, Vietnam Women Museum, Vietnam Military History Museum, Hoa Lo Prison, Lenin park… All places that are not far away from each other, it is worth a visit and you can explore them on foot.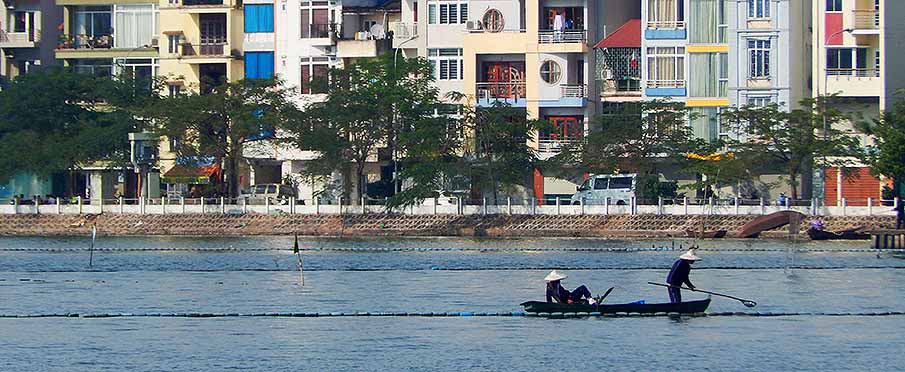 The Imperial Citadel of Thăng Long is a good place to relax in Hanoi.
The Imperial Citadel of Thăng Long and earlier historical city of Thang Long was a fortified complex in Hanoi, which for centuries served as the political, cultural and economic center of Hanoi and of northern Vietnam. It is a large historical complex, a short walk from Lenin Park, where you can see the old unique historical relics, the fort, the museum of historical objects, pottery and other remains. The whole place is very quiet and peaceful, good for relaxation away from the busy part of Hanoi. In 2010, it was included in the UNESCO World Heritage List. In some places there is ongoing excavation work and the foundations of the fort were discovered for example, with ponds, wells and other archaeological monuments. Tickets cost 30 000 dong and the visit takes at least half a day.
Book your tour in Hanoi online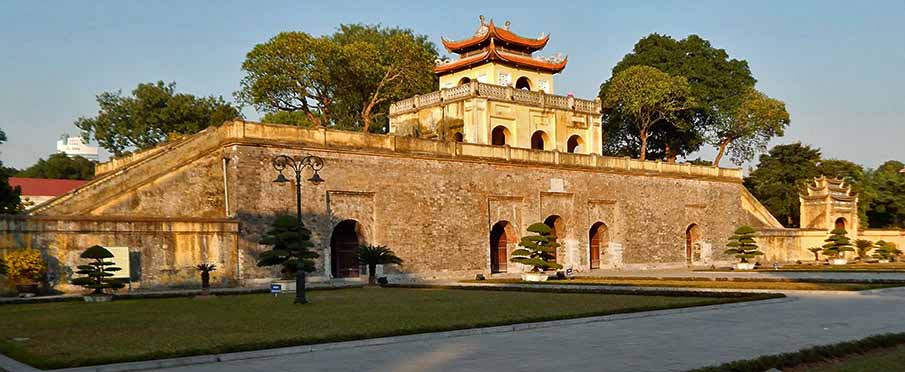 Ho Chi Minh Mausoleum – the place of the embalmed body of Ho Chi Minh.
If you want to relax from the bustle of motorbikes, Ho Chi Minh Mausoleum is an ideal place. It is a short walk from the center of Ba Dinh square. The area around the mausoleum is closed from traffic. Construction of the granite mausoleum was completed in 1975 and this is the building where the embalmed body of Ho Chi Minh lies. The body rests in a glass sarcophagus and it is illuminated by spotlights. In the mausoleum it is forbidden to take pictures and you must keep calm, everything is overseen by guards. Ho Chi Minh announced the independence of Vietnam on the Ba Dinh Square on September 2nd 1945. Ho Chi Minh museum and One Pillar Pagoda is about 300m from here.

One Pillar Pagoda – a tourist attraction right at the Ho Chi Minh Mausoleum.
A few meters from the Ho Chi Minh Mausoleum is the One Pillar Pagoda (Chua Mot Cot). It is one of the most important and visited pagodas in Hanoi. The original pagoda (now a reconstructed replica) was built during the reign of Emperor Ly Thai Tong, ruled from 1028-1054. It is built to resemble a lotus flower. It is a tiny, but important pagoda, which is for tourists rather a variegation at the mausoleum. However, if you are already at the mausoleum, so visit this place, count with a large number of tourists.

One Pillar Pagoda – a tourist attraction right at the Ho Chi Minh Mausoleum.
The Presidential Palace is also a few meters from the Ho Chi Minh Mausoleum. This area also includes a modest small stilt house (similar to the way Vietnamese ethnic groups lived) – Ho Chi Minh's Stilt House, a place where Ho Chi Minh lived because he refused to live in a luxury presidential palace. Thus, he put himself on roughly the same level as the lower poorer stratum of the Vietnamese population and gained sympathy. The house has two floors, a ground floor for meeting people, and a second floor for Ho Chi Minh's privacy – a study and bedroom where he read books and relaxed. The house is situated in a large garden with fruit trees and a fish pond. The house is separately separated from the mausoleum, the area is undergoing inspection and pay admission.

Vietnam Museum of Ethnology – Cultural Heritage of 54 ethnic minorities.
One of the most important museums of Vietnam is the Vietnam Museum of Ethnology in Hanoi. The museum preserves the cultural heritage of 54 ethnic groups in Vietnam. Artifacts, objects, habits, dwelling, clothes, photos and more can be found in this museum. Vietnam Museum of Ethnology has 2 exhibitions – outside, where you can see old houses and buildings of the inhabitants, and inside, with the rest of the exhibits. All year round a lot of travelers and residents go to this museum. The best idea is to visit some of the villages directly with minority residents in the north of Vietnam.

The Temple of Literature is one of the most important landmarks in Hanoi
One of the oldest and most important monuments in Hanoi is The Temple of Literature (Van Mieu). To can get there from the city center in about 10 minutes by taxi, or from Hoan Kiem Lake, when you are walking it's about an hour. The temple was founded in1070 by the emperor Ly Thanh Tong, and is a dedication to the Chinese philosopher Confucius. About six years later the university was founded, where the children from the royal family were taught, and selected students and the aristocracy visited this university. They then worked as teachers and propagandists of Confucian teachings.

Book train tickets from Hanoi to Sapa

This long temple complex is divided into the 5 courtyard walls. The great walls also prevent the ambient noise of passing motorbikes, and there is relative calm making this a very good place for relaxing in Hanoi. Admission is only 10,000 dong. The Temple of Literature has been repaired several times and is maintained and still retains its original character.

The Lake of the Returned Sword in the heart of Hanoi is shrouded in legend.
In the center of Hanoi is the famous Hoan Kiem Lake (The Lake of the Returned Sword). A lot of tourists and even locals come here to play sports, take pictures or just to relax. It is good to walk here in the evening, this place has own atmosphere. The history of this lake is connected with the turtle. According to legend, the turtl lived here in the 15th century and gave the magical sword to king Le Loi. The King won the battle for independence and defeated the Chinese Ming dynasty.

Temple of the Jade Mountain – Ngoc Son on Hoan Kiem lake.
The sword was returned to the tortoise, and she has this sword always with her. There used to be plenty of turtles in the lake, but they were caught and exterminated, and today only one rare turtle lives here. On the lake is The Temple of the Jade mountain (Ngoc Son) and Turtle Tower (Tháp rua). In the Jade Mountain Temple is held on certain days cultural music performances with traditional Vietnamese musical instruments.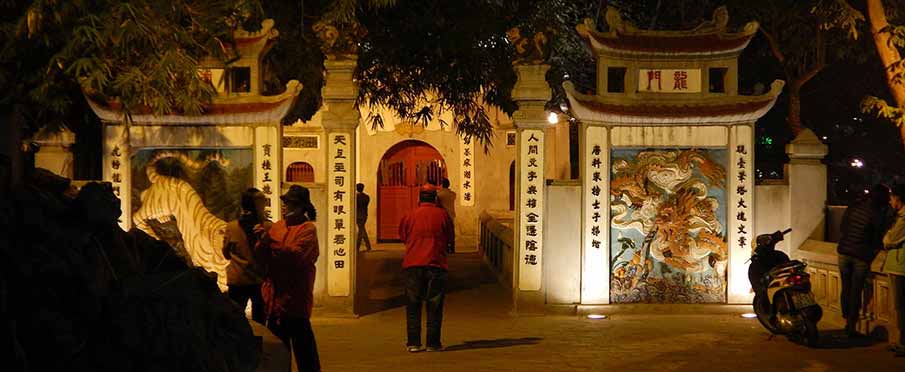 Hoa Lo Prison (also known as the "Prison Museum or Hanoi Hilton").
About 1 km from Hoan Kiem Lake is another interesting place capturing the turbulent history of Vietnam. It is a Hoa Lo Prison (now a museum, also called the Hilton of Hanoi), which captures the imprisonment of mostly political prisoners during the French colonization, but also prisoners from the Vietnam-American War. The prison leaves a rather depressing impression and also depicts the fate and text of some prisoners. In the museum you can see the chambers where the prisoners were, the practices of imprisonment, torture and even guillotine. The French named this place – Maison Centrale and can still be seen above the entrance to the prison. If you move between the station and Hoan Kiem Lake, the place is recommended to visit.

Vietnam Military Museum in Hanoi – military exposition and war history.
Another interesting and quite nicely processed museum about 2.5 km on the way from Lake Hoan Kiem to Ho Chi Minh Mausoleum – Vietnam Military Museum (Vietnam Military History Museum). There are several exhibits from wars – aircraft, armored vehicles, helicopter, weapons and more, but also a lot of information. It maps the military history of Vietnam from about 1930 to the Vietnam-American War. There is also the Flag Tower – Cot Co right at the museum, which can be climbed, it is open for tourists. For fans of war history it is a very convenient and interesting place to visit.

Water Puppet Theatre – a very frequented attraction in Hanoi.
In Hanoi, a well-known tourist attraction, which can be visited in the center of town near Hoan Kiam lake. This attraction originally came from Vietnamese villages where the theater with puppets in the water was played. It became very popular and the theater was founded in 1969 in Hanoi. The first performance with puppets and people was played in 1990 in Hanoi Thang Long Theatre.

Water Puppet Theatre are mostly performances of farmers (simple village life, growing the rice, raising the buffalo …) and glimpses of historical legends. The puppets are made from the wood of fig trees and their hight is almost 90 cm. There is traditional Vietnamese music and narration is in the Vietnamese language. Water Puppet Theater in Hanoi – certainly worth a visit.


WHAT TO WATCH OUT IN HANOI, SCAMS IN HANOI:
As the capital city of Hanoi is huge with more than 6 million inhabitants, petty crime and tricks on tourists do occur . So be very careful. If you do have any problems you can contact the

tourist police in Hanoi

, You can report any fraud, theft, robbery or any other trick and scams. The telephone number for the tourist police in Hanoi is 04-3771085 or 04-38525252.

watch your belongings – do not expose your cameras and other electronics, somebody can steal these for example motorbike drivers
beware of the taxi driver – the meter is important, keep small bills, taxis recommended: Mai Linh or Taxi Group
differences in the prices in the restaurants for foreigners
someone offers you drugs in a club – do not take it, you do not know what it could be (also in the street)
be very careful when moving in the street – traffic chaos
fake copying of shops and travel agencies – hotels and tourist agencies under the same name
when you are first in a hotel room – check the contents in the fridge (they could charge you for it)
someone will offer you repair or cleaning of shoes in the street – after the process they want money (eg. $ 30 a total rip-off)
lady in the street with fruit in baskets on her shoulders – they want you to pay for rent of the basket (eg. $ 10 another rip-off )
do not buy bus and train tickets outside the station – ticket touts or criminals with false tickets
rental or purchase of motorbikes – check a motorbike carefully and try a test drive
Tourism Information Centre in Hanoi (28 Hàng Dầu Street).
Need help? Plan your trip in Vietnam? Do you have any other question about traveling? You can visit and take advantage of the Tourist Information centre on the 28 Hàng Dầu Street. Opened at the end of 2016. Address: 28 Hàng Dầu Street (nearby of the Thang Long water puppet theare). This center also offers a couple of short tours in Hanoi. Facebook page: www.facebook.com/28hangDau. Opening hours: Monday-Friday 8 am-17 pm, for free tours – Wednesday to Sunday 9 am-18 pm (may change, holidays, etc.).


HOW TO GET FROM NOI BAI AIRPORT TO HANOI:
Noi Bai Airport is located approximately 40 kilometers north of Hanoi. From the airport you can take taxi, local buses and buses of Vietnam Airlines. You can also try the alternative taxi service Grab (for about half the price).
TAXI from Noi Bai Airport:
recommended taxi companies from Viet Thanh (white car, a blue sign "Airport taxi") and Noi Bai (white car with yellow line and the sign is "Noi Bai taxi")
the price for taxi is 15-20 USD for car, one drive to Hanoi or from Hanoi to Noi Bai airport
BUSES from Noi Bai Airport:
Bus service No.86 with wifi. This bus connects the main railway station in Hanoi (Le Duan Street) to Noi Bai Airport. Price is 35.000 VND (about 1.50 USD), more info about these buses + schedule.



Bus No.86 stops at these bus stations:


1. From Noi Bai International Airport to Hanoi Railway Station (Le Duan):
1.Noi Bai Airport ( Station T2): Floor 1 Station T2, 2.Noi Bai Airport ( Station T1): Floor 1 Station T1, 3.T Junction: Au Co – Xuan Dieu, 4.Yen Phu – Cua Bac, 5.Long Bien Bus Station ( Position E3.4 ), 6.Opera House, 7.Melia Hotel, 8.Hanoi Train Station.

2. From Railway station in Hanoi to Noi Bai International Airport:
1.North square of Hanoi train statiom, 2.Stop: Melia hotel — Waiting lodge opposite of Melia hotel, 3.Stop: Post Office, 4.Stop: Long Bien Bus Station ( Position E1.1 ), 5.Stop: Yen Phu – Cua Bac, 6.Stop: T Junction Au Co – Xuan Dieu, 7.Noi Bai Airport ( Station T1) — Floor 2 Station T1, 8.Noi Bai Airport ( Station T2) — Floor 3 Station T2.

Public buses – No.7 ends at the station Cau Giay, No. 17 ends at the Long Bien Station, No. 90 ends at the Kim Ma station (buses run from 5 to 22 o´clock. Every 15 minutes)

Minibuses of Vietnam Airlines (the main station is at the Vietnam Airlines office in the street Quang Trung in the south of Hoan Kiem Lake in Hanoi (Airport taxi), price is 2 USD, when you are going to another hotel it costs 4 USD)

 BEST PLACES TO SHOP IN HANOI:
Hanoi is a huge city, where you can buy almost anything and anywhere. The main area is in the heart of the Old Quarter near the Hoan Kiem Lake. You can buy the things you need. From cheap goods to designer and luxury brands.
Weekend night market:
Hang Dao street to Dong Xuan Market in the Old Quarter
you can buy almost everything here
Friday – Sunday from 19.00 pm
Ba Trieu Street:
this long street is full of shops, bistros and restaurants
also luxury and expensive things
Vincom Center Ba Trieu – shopping center

Vincom MegaMall Royal City:
72A Nguyen Trai street (about 7 km south-west of Hoan Kiem Lake)
largest underground shopping center in Southeast Asia
hundreds of shops and also modern apartments
branded electronics, clothing, furniture and other goods
water park, ice rink, cinema, 170 restaurants
Dong Xuan market:
the northern part of the Old Quarter, the biggest market in Hanoi
buy mainly clothes, accessories, fabrics
open daily from 7.00 am to the evening
Trang Tien Plaza:
southern part of Hoan Kiem Lake
mainly focused on designer and luxury foreign goods
open from 09.30 am to 20.00 pm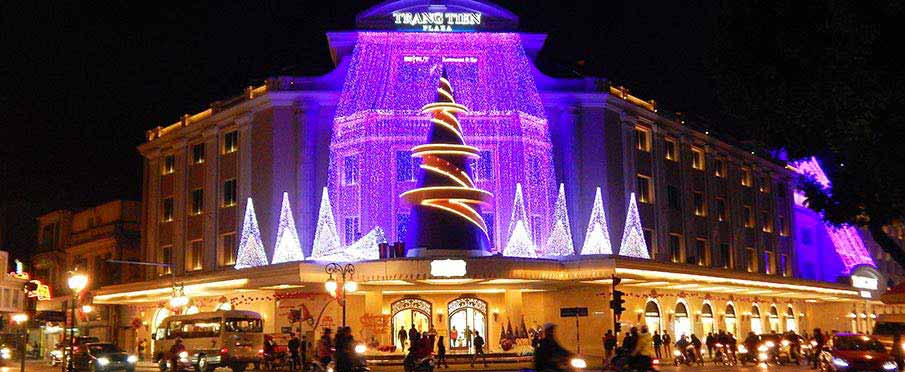 Hang Da Shopping Center:
Hang Da street
clothing, shoes, fashion accessories, bags …
open from 10.00 am to 18.00 pm
Quang An Flower market:
one of the most visited flower markets in Hanoi
focused only on the sale of various flowers
the best time for a visit is in the early morning (3.00-6.00 am)
The buddhist complex Thien Tru (Chua Huong – Perfume pagoda).
If you are staying in Hanoi for a few days, you can go to one of the most famous Buddhist sites – Thien Tru (Chua Huong). It is located about 70 km to the south from Hanoi city in the Huong Son mountain range. It's the buddhist complex of palaces and caves. The most sacred place is a large cave (Chua Huong) and Perfume pagoda, you can go to the cave by cable car or you can walk.
Book motorbike in Vietnam online
The trip to the Perfume Pagoda and hike to the cave takes the whole day.
You need to get the boat to the complex and these boats offer beautiful views of the scenery of the area Huong Son. Once a year (February-March) there is a festival, thousands of foreign and local visitors come here with the boats. You can purchase this trip in Hanoi for about 25 USD. Not far from the Perfume Pagoda is a restaurant where you can buy hot food.
MORE PHOTOS FROM THIEN TRU (Perfume pagoda)

Bat Trang – the well known village for the production and sale of ceramics.
Do you want to buy any of Hanoi's famous hand-made objects or porcelain? You can try to go to the famous ancient Bat Trang village, which is very well known for the production and sale of unique porcelain and ceramics. Production has been going on for centuries and it is dated to the distant history of Hanoi. The history of this village dates back 1000 years when it was a small village with a few disciples and artisans of ceramic art. Gradually, however, it has grown to the center of production and export of ceramics in northern Vietnam.
The history of Bat Trang village dates back 1000 years.
Porcelain and ceramics, which are manufactured here are not only known throughout Vietnam but also exported to foreign countries. Bat Trang village is visited by hundreds of people and tourists throughout the week. You can try with your own hands, such as ceramic production runs. Bat Trang is located about 10 km from the center of Hanoi, in the southwestern part, take a look on the map. If you would like to see manufacture of silk as well, you can visit Van Phuc village. In Van Phuc village it is also possible to buy some of the very nice silk.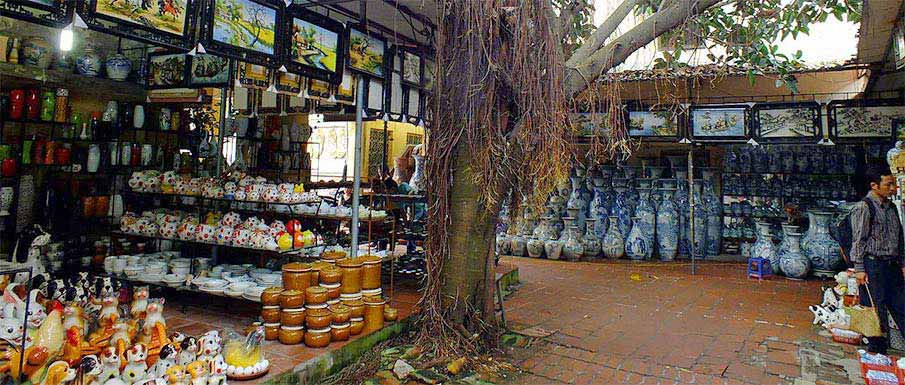 Where to eat in Hanoi, where are the restaurants and streetfood?
When moving around Hanoi you will see the constant presence of street vendors with food. Hanoi is a popular place for street food and the locals eat on the street everyday, its an all day event. Most of the population eats on the streets with hundreds of small tables and chairs, especially in the evening. Hundreds of minirestaurants, stalls, small mobile shops on wheels, women with hanging baskets and fruit, varied, tasty and healthy meals, you'll see it all in Hanoi.

You can also go on a "Street food tour" in Hanoi
This way of eating is also for many people their only source of livelihood. Prices for purchased food on the street are very low, but at the historic sites may be a little bit higher. The best place to try local cuisine in Hanoi is the Old Quarter. The most common dishes that you can try are Pho soup, rice in several ways (Com Tam, Xoi), Bahn Mi sandwiches, rice noodles (Bun), Rolls (Banh Cuon), salads (Goi) and other dishes. If you want learn more about vietnamese cuisine and try very unusual dishes try a "Street food tour".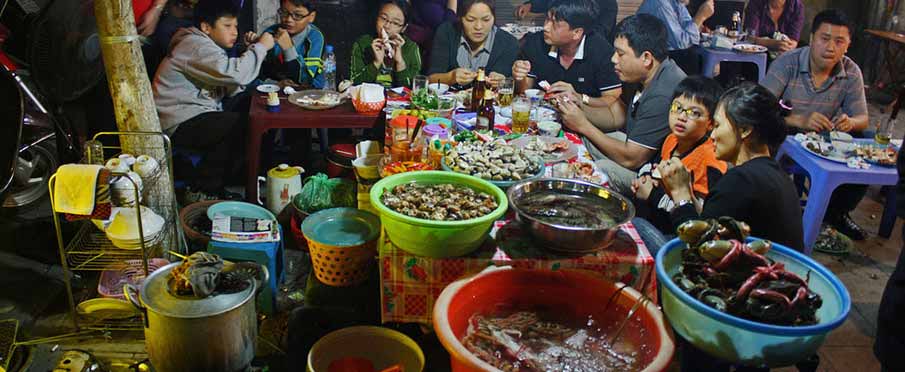 Transport and how to move in Hanoi:
Many public buses operate in Hanoi and there is a huge network of bus lines going to anywhere in the city. You need to buy tickets from the driver. However, this network is complicated and confusing and not very comfortable when the traffic is frantic. Look at the bus map of Hanoi, when you understand this – you have become a real Vietnamese 🙂 If you have a mobile phone with Android system, you can try to use BusMap Hanoi application. It is possible to use also BusMap for Ho Chi Minh City (Android, iOs, Windows). Official website: Busmap.vn.

It is better to move on foot in Hanoi, I think 2 days maximum is enough to explore the main tourist attractions in the center. But be very careful, moving in the city center is very dangerous. Another good option is to use the alternative taxi Grab, prices are very low compared to conventional taxi.
Weather in Hanoi:
The weather in Hanoi can be divided into two periods. Hanoi has a hot summer with rainfall and dry winter:
• Rainy season (from January to September)
• Dry season (from October to April)
SPRING: it is humid, from February to April, the best time to visit, blooming trees and flowers, temperature 15-25 °C
SUMMER: it is hot, from May to August, a lot of precipitation, thunderstorms during the day but also in the evening, average temperature 32 °C
FALL / AUTUMN: the best period from September to late November, warm sun and cool breeze, the temperature 25 °C
WINTER: from December to late February, the average temperature is 17 °C, but in themountainous areas may fall below 10 °C
➜ Current weather in Hanoi
---
Accommodation in Hanoi:
Hanoi offers a wide range of accommodation from cheap hostels, guesthouses and even expensive luxury hotels or homestays. If you are traveling alone it is not a problem to find a private room in a good hotel in Hanoi for 10 USD with breakfast. A very good double room you can pay from 7 – 15 USD / pp, luxury private room about 35 USD and higher… You can also stay at the Noi Bai International Airport, there are many hotels and guesthouses, find them on Agoda.
➜ Accommodation in Hanoi (Hotels, Guesthouses…)
➜ 15 best cheap hotels in Hanoi
➜ 15 best and cheap luxury hotels in Hanoi (Hoan Kiem)
➜ 15 best luxury 5 star hotels in Hanoi
➜ 15 best cheap hostels in Hanoi (Old Quarter)
---
Places of Interest in Hanoi:
Ngoc Son Temple (on the small island of Hoan Kiem Lake, Huc bridge)
Hanoi Old Quarter
Hoan Kiem Lake and nearby places
Water Puppet Theatre at Hoan Kiem Lake (Lake of the Returned Sword)
Ba Dinh Square
One Pilar Pagoda (one of the oldest pagoda in Hanoi)
Ly Thai To park
Long Bien Bridge
Military history museum + B52 Victory Museum
Vietnamese Air Force Museum
Huu Tiep Lake and the Downed B-52
Vietnamese women's museum
Museum of Ethnology, Hanoi Police Museum
Hanoi Ceramic Mosaic rural
Hoa Lo Prison
Thanh Chuong Palace
Vincom Mega Mall Royal city
Lotte Center (Sky Bar, malls, viewpoint…)
Keangnam Landmark Tower 72 (height: 336m)
Hang Dao Night Market
Quang An Flower market
trip to the buddh.complex – Thien Tru (Perfume Pagoda)
Van Phuc village (silk production), Bat Trang village (unique porcelain and ceramics)
Cự Đà Ancient Village
Vietnam Central Circus (see map)
Hanoi – tourist map:

Frequently asked questions about Hanoi:
1️⃣ How to move and explore Hanoi?
The best way is to walk, or you can travel by public bus. There are also private taxis or Go-Jek. If you can – start at Hoan Kiem Lake in the city center of Hanoi.
1️⃣ How to travel from Hanoi to Sapa?
You can travel by tourist bus, train to Lao Cai or private taxi/car. There is no flight from Hanoi to Sapa, the only way is to travel by land. You can read this article > How to travel from Hanoi to Sapa?
3️⃣ Where to stay and how to book accommodation in Hanoi?
The best place where you can stay and where you can book your hotel, homestay or guesthouse is in the city center of Hanoi, e.g. around the Hona Kiem Lake. Book your accommodation in Hanoi online.
4️⃣ How long to stay in Hanoi?
One day is not enough. You should stay in Hanoi about 3-4 days, it is a large busy city and there are a lot of interesting historical and modern sites for visit.
5️⃣ How to book a private tour or other activity in Hanoi?
6️⃣ Where to eat in Hanoi?
You can eat almost everywhere in Hanoi. There are a lot of restaurants and bistors mainly in the city center.
7️⃣ What is the most important historical site of Hanoi?
The most important and visited site in Hanoi by tourists is Ho Chi Minh Mausoleum. Mausoleum is about 4 km from Hoan Kiem Lake, it lies at the Ba Din square.
---
 Where you can go by bus or train from Hanoi?
1. Hai Phong (Ha Long Bay) – by bus (My Dinh and Yen Nghia bus station in Hanoi), by train
2. Lang Son – by bus (My Dinh and Giap Bat bus station in Hanoi), by train (Dong Dang)
3. Cao Bang – by bus (My Dinh bus station in Hanoi)
4. Ha Giang – by bus (Gia Lam and My Dinh bus station in Hanoi)
5. Yen Bai – by bus (Giap Bat and My Dinh bus station in Hanoi), by train
6. Sapa, Lao Cai – by bus (My Dinh bus station in Hanoi), by train to Lao Cai
7. Mu Cang Chai, Nghia Lo – by bus (My Dinh and Giap Bat bus station in Hanoi)
8. Ninh Binh – by bus (My Dinh and Giap Bat bus station in Hanoi), by train
9. Bac Ha – by bus (My Dinh bus station in Hanoi), by train to Lao Cai and there take another bus
10. Moc Chau – by bus (My Dinh bus station in Hanoi)
11. Mai Chau – by bus (My Dinh bus station in Hanoi)
You can fly to another cities in Vietnam from Hanoi – Buon Ma Thuot, Can Tho, Chu Lai, Da Lat, Da Nang, Dien Bien, Dong Hoi, Ho Chi Minh City, Hue, Nha Trang, Phu Quoc, Pleiku, Quy Nhon, Vinh.
---
Accommodation|Transport|Vaccines|Mai Chau|Weather|Trekking|Ha Long Bay|Ninh Binh|Motorbike|Viet. airports|Cat Ba|Hanoi|Train tickets