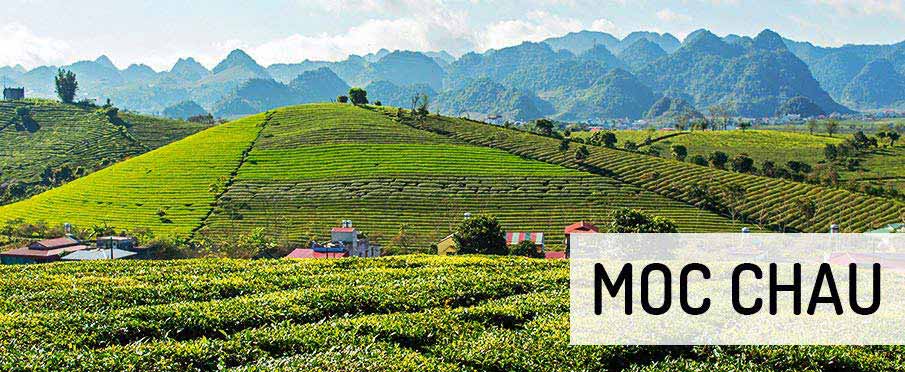 Information about Moc Chau
How to get to Moc Chau
Weather in Moc Chau
 Accommodation in Moc Chau 
Interesting sites in Moc Chau
Map of interesting places
Moc Chau – tea plantations, hilly valleys, ethnic villages, and flowering trees.
Moc Chau (Mộc Châu) is a district of Son La province and its capital is of the same name. It is a large mountainous and hilly region. It lies about 200 km from Hanoi to the west at an altitude of 1,050 m. It's a very good stop between Son La city and Mai Chau city. If you come here, I recommend you stay a few days in this beautiful area of tea plantations, flowering fruit gardens, farms and flowers.
Do you want to see flowering trees and shrubs in perfect contrast? Come in spring.
During the autumn and spring in Moc Chau plateau its a tea tree celebration and the plum and peach trees are also blooming. For example, the plum trees are blooming in early February. Be careful before visiting the fields where these trees are. Due to the inappropriate behavior of some travelers you need to pay an entrance fee in some areas. Moc Chau has a temperate climate. The average temperature in the summer is 20 °C, and it looks as if the area has been painted in green colours. Spring is warm and it is the best time to visit. The autumn is a little bit cold.

You will see the breathtaking scenery of the large valley in the north.
The area is inhabited by the people of different ethnic minorities. A lot of the Thai and Hmong people live here but there are also other minorities are in this area – Dao, Kho Mu, La Ha Tay. The most beautiful places to visit in Moc Chau are the pine forest in the village of Ang, Dai Yem waterfall, Pa Phach village or Doi cave and Tan Lap Tea Hill. And, of course, green tea plantations and beautiful hills around the city. There are also several farms with cattle and flower fields. Moc Chau is a significant producer of high-quality milk and tea.
Dai Yem Waterfall attracts many visitors from Moc Chau town.
Dai Yem Waterfall (Thác Dải Yếm) is an easily accesible nice and big waterfall, only about 10 km from Moc Chau town. You can travel from Moc Chau town to Dai Yem Waterfall by motorbike (very easy and smooth road), bicycle or private taxi. Now it is already a popular tourist attraction and all the visitors and travelers are welcome. There is a parking lot at the Dai Yem Waterfall.

"The market of Love" – watch the relationship introductions of ethnic people.
In autumn, the Moc Chau also hold their "love market", which lures into this region many young Hmong people to give traditional gifts which have been exchanged for centuries, confess their love and promise that they would continue courting even into the following year.

A few months before the love market, girls aged 15 to 17 prepare their colorful and beautiful costumes and boys play on the musical wind instrument Khen which they dance to. This instrument is created from seven or eight pairs of bamboo tubes. Recently, however, there has been a drop in the number of boys who can do this performance. Watch a nice documentary about the "Love Market".

There are various festivals of the Hmong and Thai people in Moc Chau.
On Independence Day, September 2nd there is a large festival of Thai people, where you can see many interesting customs and traditions, or you can buy local goods. People from ethnic groups meet here in order to establish relationships and find a partner. The whole city shines with bright colors and music plays everywhere.

Another important festival in Moc Chau is the Het Cha festival. Het Cha takes place from 23 to 26 March every year. It is mainly aimed at a celebration of the new crop and food production in this fertile region. You can meet the residents of the ethnic groups of Hmong and Thai in the town. You can also go to Laos, the border is about 40 km from Moc Chau town.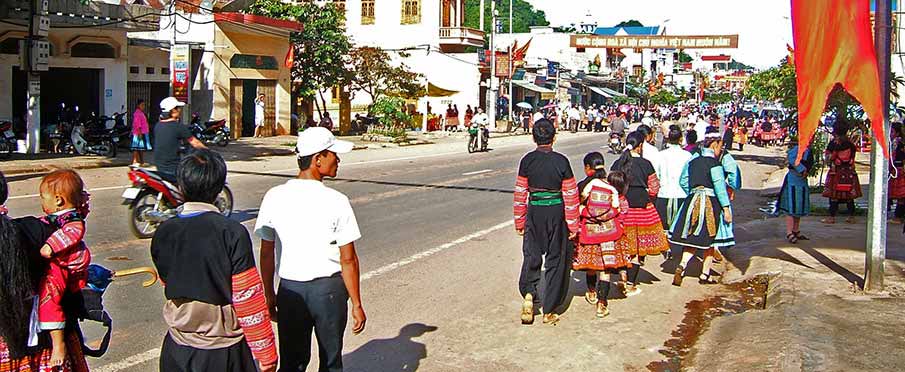 If you stay longer in Moc Chau, rent a motorbike for excursions of this area.
If you stay longer in Moc Chau and you want to explore the surroundings, you will have to rent a motorbike/scooter or, alternatively, use the taxi, mototaxi (Xe Om). Interesting and beautiful places are also located in the far surroundings, eg. a few kilometers from the city. For example Doi Che Trai Tim tea plantations, Na Ka Plum Valley, ethnic villages or beautiful Chieng Khoa Waterfall (Thác Chiềng Khoa).
Bus Tickets from Hanoi to Moc Chau
Chieng Khoa Waterfall, 30 km from the town, offers a nice trip to nature.
Chieng Khoa Waterfall (Thác Chiềng Khoa, also known as Cloud Waterfall) is not so visited by foreign tourists because it is about 30 km from Moc Chau city center. The only way how to get there is to travel by motorbike. Almost all the way you will travel in the beautiful sceneries, you will see tea plantations, nature and mountains. Chieng Khoa is a seven-floor waterfall and it is about 3 km from Chieng Khoa village in the east part of Moc Chau district (marked in map, or followe Google maps). If you come to the spot and you will not be able to find the way to the waterfalls, ask local people.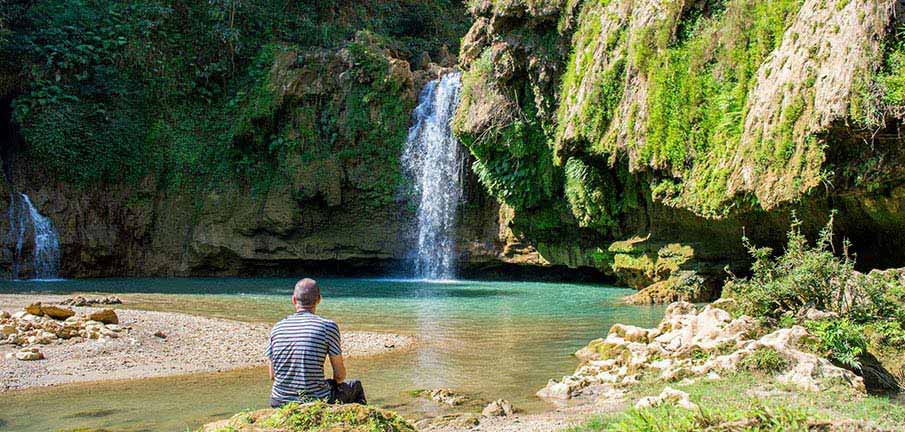 Moc Chau offers a unique view to the life of ethnic people in the area.
Moc Chau is the place where a large part of the population is formed by ethnic groups such as Hmongs or Thai. The whole area is a place of ethnic villages, where we can still observe the original customs and traditions of the people, such as dressing in colorful costumes.

Many of the ethnic residents of Moc Chau live in wooden huts in contact with nature, but we also have to say, that brick houses are slowly starting to appear and replacing these huts. However, this area offers a unique and authentic view to the life of these people.
Accommodation in Moc Chau (good reviews):
▶️ The November Moc Chau
▶️ Lavalee Bungalow
▶️ Muong Thanh Holiday Hotel
▶️ Ben's Hotel
▶️ Doi House
▶️ Vhouse Moc Chau
▶️ Green Hotel Moc Chau

In the vicinity of Moc Chau you can find some interesting viewpoints.
It is important not to stay in the city because you will not find much there. What is important, is how you will move there and again I must recommend a motorbike, because the vast majority of nice places and nature is a few kilometers from the city. Several interesting sightseeing points of the surrounding area are located, for example, at the village of Chieng Di, near the main road QL6 (Chieng Di I and Chieng Di II), about 15 km from the city of Moc Chau.

The entire passage along this road, up to 25 km along this route, offers a couple of nice views, nice sceneries, and if you go deeper into the neighborhood, of course, even ethnic villages. On some places you will pay a small fee for entrance (10 000-40 000 VND), which is levied by local ethnic residents.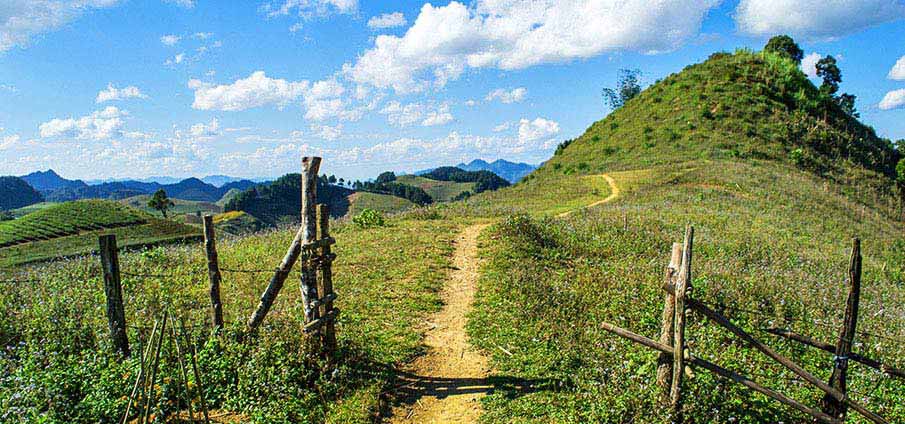 The very large areas of hilly tea plantations are located around the city.
Tea plantations in Moc Chau can be seen almost immediately upon arriving in the city from the east, from the main roads QL43 and QL6. Especially in Hoa Banh (Phieng Luong), Tien Tien, Phieng Ha … in the east of the city. Some other large tea plantations in Cho Long Village – Doi Che Trai Tim, about 20 km north of the town, you have to travel by motorcycle or taxi (or mototaxi).

There is a nice viewing peak in this tea plantation, there is a nice view of the surroundings. On some tea plantations tea can be tasted and, of course, you can buy tea. Eg. tea from the Doi Che Trai Tim, Shan Thuet 0.5 kg, I bought for 100 000 VND. Prices can be different according to quality and type of tea and area.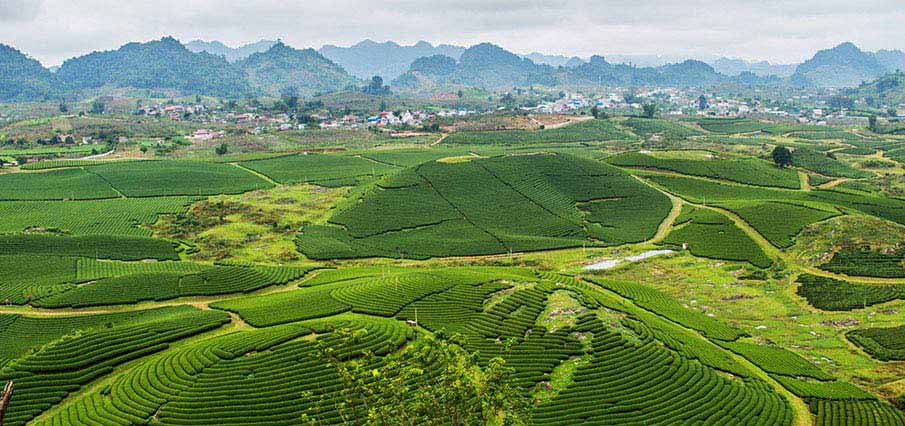 How to get from Hanoi to Moc Chau:
fom Hanoi to Moc Chau by bus/van – buses or vans/minivans from Hanoi go from My Dinh or Yen Nghia bus stations
some private companies can go from another bus stations
buses and minivans go through the all day
travel by bus/van from Hanoi to Moc Chau can take about 4-5 hours.
you can travel from Hanoi to Moc Chau by comfortable limousine/van
bus companies to Moc Chau: Xuan Trang Limousine, Thanh Chung
bus tickets from Hanoi to Moc Chau cost about $8-12/pp

Book bus tickets from Hanoi to Moc Chau online on

Baolau

icon-external-link-square

or 12go.asia

icon-external-link-square
You can also take a bus from Hanoi to Mai Chau (about 60 km from Moc Chau). Mai Chau is very good place for stop. You can reach Moc Chau with local buses from the town of Son La and Ninh Binh. There is no train connection in Moc Chau town.

How to get from Mai Chau to Moc Chau:
There is possible to take a bus/express from Mai Chau to Moc Chau. Some buses (also sleeper) go also from Tong Dau to Moc Chau, Tong Dau is about 4km from Mai Chau.
Ask at your hotel/homestay for current timetable and another possibilities.
You can also rent a motorbike in Mai Chau and travel on your own, nice and easy route.
---
Weather in Moc Chau, when to go:
You can see hundreds of flowering fruit trees and shrubs in the months of February-March-May.
It is the ideal time to visit this area.
The weather in Moc Chau can be a little bit cool in December and January.
---
Accommodation in Moc Chau district:
You will find some cheap and good hostels and small hotels in Moc Chau.
A lot of them you will find on Agoda.
Other possibility is to accommodate in Mai Chau, it is about 50 km from Moc Chau.
➜ Book Accommodation in Moc Chau (up to 60% Discount)

---
 Places of Interest in Moc Chau:
tea and fruit plantations, hills and pine forests
ethnic villages in this area
Bach Long Glass Bridge in Muong Sang Commune (Moc Chau Island)
Dai Yem Waterfall (Thác Dải Yếm) + 3D Glass bridge
Pa Phach, Chieng Di, Ang… villages (Hmong + Thai people live here)
Doi Cave (Hang Dơi) in Moc Chau town
Chiềng Khoa Waterfall (Thác Chiềng Khoa)
Doi Che Trai Tim (tea plantations)
Tan Lap – tea plantations, farms…
Lâm Viên Tây Tiến (Monument)
Na Ka Plum Valley
Bản Áng + Phoenix Moc Chau Resort (Pine forests of Ang)
"Love market" in Moc Chau
Flower gardens
Pha Luong mountain (you should have your trekking guide)
Festival of Thai residents (September 2)
Moc Chau Happy Land
 Moc Chau – tourist map:

Frequently asked questions about Moc Chau:
1️⃣ How to book bus tickets or private car from Hanoi to Moc Chau?
2️⃣ Is there a flight from Hanoi to Moc Chau?
No, there are no flights to Moc Chau from Hanoi, Moc Chau has no airport.
3️⃣ How to move and explore Moc Chau?
The best option is to travel on your own, e.g. you can rent a motorbike. IDP is necessary if you want to drive a motorbike in Vietnam. You can book your motorbike in Hanoi online with

Bikesbooking

. Roads in Vietnam are dangerous, drive carefully and slowly. There are also some local buses between Moc Chau and Mai Chau or Moc Chau and Son La town.
4️⃣ What is the travel time from Hanoi to Moc Chau?
Travel by tourist bus or minivan from Hanoi to Moc Chau takes about 4-5 hours.
Travel by motorbike from Hanoi to Moc Chau takes about 6-7 hours.
5️⃣ How much does it cost to get from Hanoi to Moc Chau?
Travel by tourist bus or minivan from Hanoi to Moc Chau costs about $8-11/pp.
6️⃣ How far is Moc Chau from Hanoi?
Travel distance from Hanoi to Ha Giang town is about 200 km by tourist bus or motorbike.
BOOK a TOUR / ACTIVITY in Vietnam
---
 Where to go from Moc Chau:
You can continue to Son La, Mai Chau, Nghia Lo (Yen Bai), Ninh Binh.
---
Accommodation|Tips|Transport|Visa|Vaccines|Money|Weather|Trekking|Calling|HaGiang|Ninh Binh|Applications|Mai Chau|Ha Long Bay|Sapa