Homestay in Vietnam
Where to find homestay
Types of homestay
The best homestays
Homestay in Vietnam is an insight into the daily life of ethnic people.
A popular form of accommodation in some places in northern Vietnam is homestay with ethnic residents. You live with the locals in their house and you share absolutely everything. Homestay is popular in Vietnam, especially in villages of ethnic minorities. However, you can also try a homestay in a city, for example in Hanoi. It was not allowed for ethnic residents to accommodate foreign tourists some time ago (except for the controlled tourist homestay, for example in Sapa), however now it is gradually changing and tourists are welcome almost everywhere.
BOOK A TOUR / ACTIVITY in Vietnam
---
HOMESTAY in Vietnam = "Stay with us in our home"
Do you want to know about the daily life of the ethnic population?
Taste their food?
Identify some cultural habits?
Need a local guide?
Stay on rice terraces or in the mountains?
Sit with them and drink a rice wine?
Or talk about anything?
Do not expect around comfort and luxury?


Did you answered YES? Then surely test the real homestay in a village in northern Vietnam.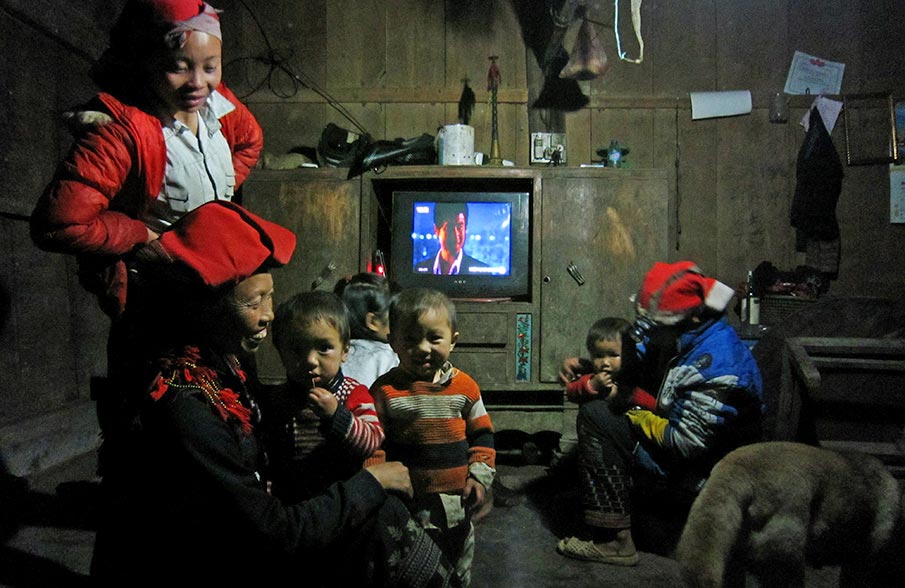 How to ask for homestay and where can I find it?

Just ask people from ethnic minorities. They answer YES or NO, this is simple. Some ethnic people speak English, but not everybody (learn a few basic words in Vietnamese). Ethnic residents have different dialects and their languages. In the area of Sapa, Lao Cai, Mai Chau, Ba Be is not a problem to speak English. In the province of Ha Giang, it is possible that they do not understand, but it depends where you will stay.
Typical homestay accommodation with the ethnic minorities in Ha Giang, Sapa or Mai Chau you can find already on Airbnb, you can book it in advance. Read an article about homestay and villages in Sapa area.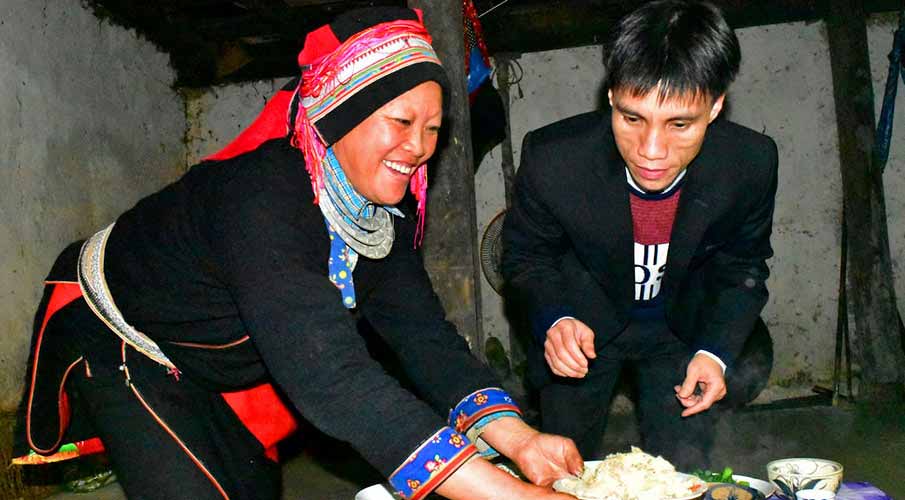 WHO CAN OFFER HOMESTAY IN VIETNAM?

1. Homestay with ethnic minority people in northern Vietnam
A lot of people from the ethnic minorities in a villages in northern Vietnam provides homestay in tourist but also in non-tourist areas. These people are usually not certified guides or employees of travel agencies. It is important that they know very well the place where they live and show you the right places and village life. Some of them have the basic knowledge of English, others speak English very well. They learn the English from the tourists who visit them. Communication is usually not a problem. If there is a communication problem, use your hands, or feet, you can also use Google translator.

For a high rate of authenticity it is recommended to try homestay accommodation with locals. But you must forget for the comfort and luxury around. Do you want to see the hard work in the rice fields or even try it, see how they kill a pig, or attend a wedding or funeral, to see how the local people make clothes? If so, you leave this place and Vietnam with experiences!

It is good to know, you give the money for the residents of the village and not the agencies and resellers. I participated myself in the New Year's Eve in the Hmong village. It was not evening, which we are accustomed, but I took an unforgettable experience. Another interesting experience was the funeral in a village of White Thai ethnic minority in Mai Chau town.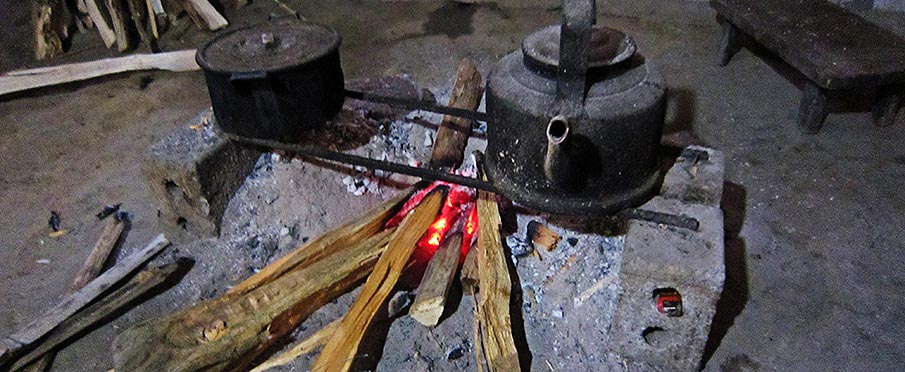 2. Homestay from a travel agency from northern Vietnam
Tourist agencies and offices also offer homestay. These offers differs from the real type homestay, which offer local ethnic residents. A lot of foreign tourists use this type mainly due to good facilities and services. The working people can be from the some ethnic minority, but they have abandoned their traditions and customs and are employed by the Vietnamese agency.

This offer is often associated with the offer on trekking, after the trek they will take you to the imitation of true type homestay. But this house is very different from the true type of house of local residents. Do you think, that poor ethnic residents have WiFi, european style toilet, shower or even a bar next to the house? I think, they dont have almost anything. These treks and trips are managed in group of 6 to 10 people.
3. Homestay also offers local people in Vietnam
The offer includes the apartments in a house with another family, or roommates, for example in Hanoi or Ha Long. If you want to try out these offers, some can be found on Airbnb, Homestay, Agoda.
Book your homestay in Vietnam on these verified websites:

HOMESTAY ACCOMMODATION – TYPES OF HOUSES:
In northern Vietnam during your traveling you can see 4 types of homestay house:
1. The real homestay in a village of ethnic minorities
most of the houses are build of the wood and bamboo
simple sanitary facilities (no sink-only mountain water pipe, asian toilet)
sometimes is no WiFi, sometimes is WiFi
food is prepared on an open fire
there is no heating
a hard wooden beds, but with a warm blanket
authentic atmosphere of village life
location off the tourist trail
people are not "mascots" (they walk in traditional costumes and use old habits)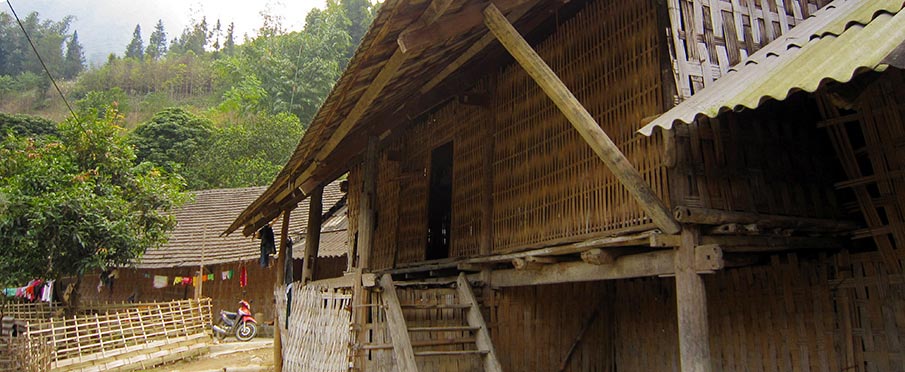 2. Homestay in more tourist village or area
houses can be build of wood but also of bricks
generally adapted housing into newer form
some places have WiFi
shower and toilet of european style
some houses have heater
food is prepared in the classic kitchen
authentic atmosphere is a little bit missing
locations in more tourist village or area
people may be from ethnic minorities, but they do not behave so (traditional clothes and customs missing)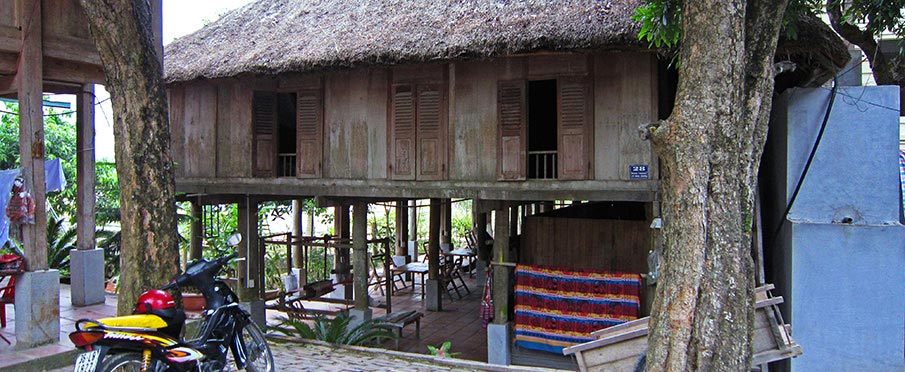 3. Homestay in a tourist spot and area
houses can be build of wood but also of bricks
new or renovated homes or cottages
WiFi internet
shower and toilet of european style
heaters
food is prepared in the classic kitchen
authentic atmosphere of village life is missing
location in the tourist village or area
employees are typical Vietnamese people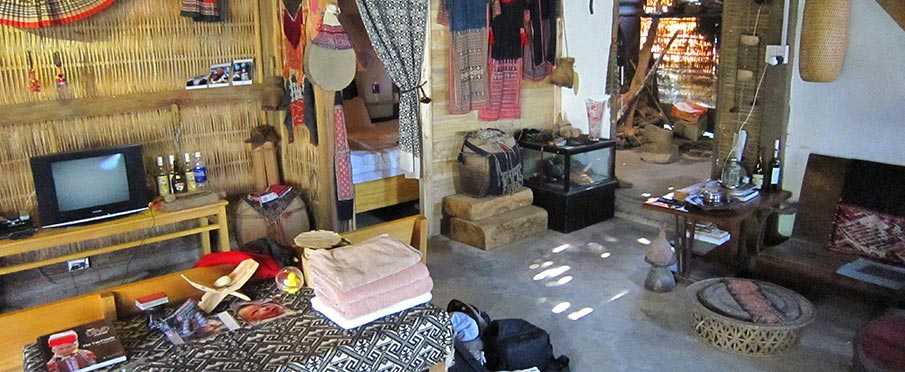 4. Homestay offers typical vietnamese families
separate rooms or entire homes and roommates
mostly in urban areas (Hanoi, Ha Long)
older and new brick houses
all facilities and restrooms what you know
good availability in the city

HOW WAS ONE DAY OF MY HOMESTAY in Hau Thao village:

My first homestay in northern Vietnam, I tried the 2nd day since I arrived in Sapa. Sapa is very popular for homestay and a lot of travelers come here for trying this. Already in the first day I've already learned that it is not important to search for some guide. There are a lot of women and girls from ethnic Hmong and Red Dao minority in Sapa town, and they offer their services (trekking, homestay). And you recognize their entrepreneurial spirit already upon arrival to Sapa 🙂 Constantly they are offering a trekking around the town, homestay or sale of handmade items and accessories. Personally I have no problem with that, but if it is repeated in the next days, it can be annoying for some people, you have to learn to ignore it. Get ready for it, especially in Sapa town!

Her short name is Cha and she speaks decent English.

So, the next day I went into the center in Sapa and just walked and i was looking for some ethnic woman I address. After a few minutes I address a woman who was standing and talking with her friend. She was quite all smiles and after a short conversation, I knew she is from this place and knows very well this area. But check out the photo below, I think she is very nice 🙂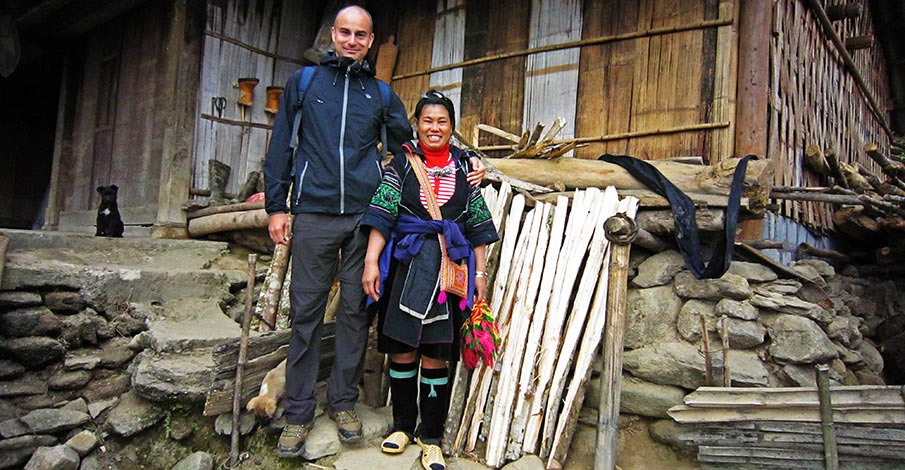 Trekking with the local people is the best – they know the local area.

I asked her, I would like to go around Sapa and try stay overnight in a village with minority people. This is usually the classic offer of these women – trekking and homestay. She offer me this service for 10 USD, I accept it and ask for details, where we are going and what is included. I do not want go to the Cat Cat or Tavan village, because these places are very frequented with tourists. We are going the unofficial trek around the eastern part of Ham Rong mountain, to the Hau Thao village, where i spend a night with her family. Hau Thao village is about 2 km from Tavan, but almost nobody here do not go here on a homestay. In addition, we are going to a place, where is no need to buy a ticket as to other villages.
Photos of Hau Thao trek
Homestays in the north of Vietnam (Ha Giang, Sapa, Mai Chau, Ninh Binh)
icon-angle-double-down
Rubber sandals for the trek? "No problem".

The first things i notice are rubber sandals in which Cha goes. It is for me absolutely unimaginable to go about 13 km in these shoes, but for these women it is completely normal. But it is also affected by the financial possibilities of the ethnic population, because they are very limited. The way is about 13 km long in the complicated terrain, 3 km are up the hill along the Dragon Mountain. From the mountains is the way a little bit better, but sometimes there are stones, mud, dirt roads. Along the way we talk, I'm curious, so I ask her for things, but after a while I see, Cha is already a little bit tired of my questions 🙂 She speaks English, I know what does she say.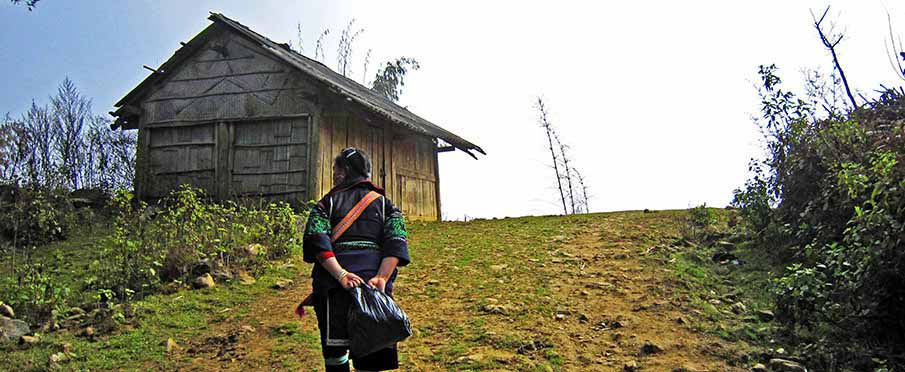 The Stand where Cha is buying tangerines, seems to fall today.


Along the way we have a few breaks, and I love photographing. There are fantastic sceneries – sharp stones projections with hills alternate with distant views into the depths of a mysterious fog between hills. Along the way we pass three small villages, people live here a bit away from civilization, authenticity is high – ethnic Hmong residents in colorful costumes prevail. When they see me, they laugh. People talk to Cha in optimistic spirit, the people here know each other. We stop at some stand, it look like fall today and Cha buy some tangerines and some snack on the way.
How to travel from Hanoi to Sapa?
Book your hotel / homestay in Sapa
Most of the ethnic people lives in limited poor conditions.

After about 4 hours, we come to the village of Hau Thao. It's a nice place, small village on a gentle hillside with a view to the valley and to the Tavan village and Muong Hoa valley. The village lies on the way to Ban Ho. Cha has two small children, 7 and 10 years, they are at home because they do not have money to be able to walk to school. She shows me their house and neighbors around them. I was quite in shock, house is very modest, there is practically nothing and everything is mostly build of wood – it looks like middle ages. Poverty and misery are shown in full glory.

Water flows into the house with a rubber hose from the mountains.


Kitchen = fireplace, toilet – viet.style, water is heading from a rubber hose, which is led from a mountain stream. Of course only a cold water, there is no shower and sink, but there is electricity. The house is made of wood except of the roof, the floor is trampled hard soil, but there are a half-meter brick pedestals. At the entrance is a small barn for water buffalos, a small barn next to the house for pigs. They have here some chickens, ducks and 3 small dogs and five pigs. And they have also satellite television.
How to travel from Hanoi to Ha Giang?
Book your hotel / homestay in Ha Giang
Welcome to the Middle Ages. Hot food is prepared on a fire.

After a while Cha begins to prepare the food for her and for me. She cooks pork with vegetables, tofu and rice. Food is preparing on fire. It is very good, the meat is very tasty and rice is delicious. When we finish, we go look around the village and then to the Tavan village. Many Hmong and Red Dao people lives here. In Tavan we go look for her sister, who lives outside the tourist route. Actually, we are in Hoang Lien National Park. Beautiful surrounding, mountains and scenery are everywhere. The evening comes slowly and we go back to Cha´s home, her husband is waiting for her. He can not speak English, Cha translates some of my sentences for him.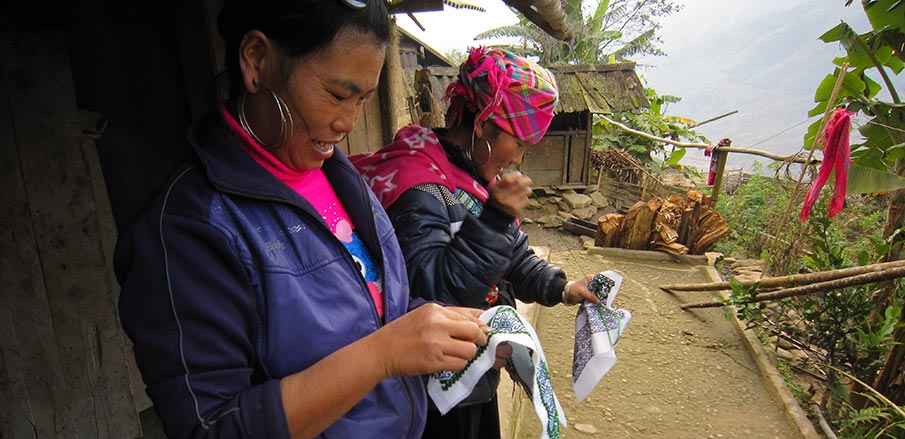 Ethnic people will be pleased to prepare their typical dishes.

For dinner with the whole family we eat what was left from lunch, food is almost similar. Everyone in the family can talk and discuss the experiences of the day. Cha translates something for me when I do not understand. They show me some photos of other travelers from around the world who visited them. And some pictures of the family circles, photos are really interesting. This evening ends slowly and we drink a rice wine, they drink the rice wine almost every day.
How to get from Hanoi to Cao Bang?
Book your hotel / homestay in Cao Bang
You can also sleep in the attic. But there is really cold in the winter.


My bed is on the ground among the bags of rice. There is a pad that is not too hard but i have very warm and clean blanket from the family. I´am quite sleepy. Some animal is scraping on the roof of the dwelling. It is quite a cold winter. But otherwise I sleep quite well. I wake up in the morning around 8 o'clock, the whole family is already up from 6 pm. Cha with her friend embroider some blankets for tourists and her husband is somewhere in the woods. Children play around the house and also help with the housework.


Homestay is a great experience and I need to recommend it to anyone.

And this is the end of my homestay experience. It is about 10 am and I´am leaving. I know that I will come back again. I came back unexpectedly on New Year's Eve, when I was invited here to celebrate with family. But that's another story.
I really enjoyed homestay in Hau Thao in northern Vietnam, people were friendly, it was a great lesson for me. I saw how people live in absolute poverty without a large income. I know that the life of these people is difficult, it seems to me that they are satisfied with this. But the optimism and smile of local people in Vietnam, which I felt and saw there among the people was really magical.
---
Frequently asked questions about homestay in Vietnam:
1️⃣ How to book a private tour or other activity in Vietnam?
You can search and book various private tours, tourist activities or tickets for attractions in Vietnam with KLOOK.
2️⃣ How to book homestay in Vietnam?
3️⃣ What to expect from homestay in Vietnam?
Homestay in Vietnam is an ideal opportunity, how you can see typical life of ethnic people from northern Vietnam. You can try food, you can explore an area with these people and you can stay with them in their home.
4️⃣ How to get to Sapa from Hanoi?
5️⃣ What is the price of homestay in Vietnam?
It depends what type of homestay you will choose and book. Prices start at 5-10 USD for shared bed or you can also take a private room for about 15-20 USD.
6️⃣ Where you can try homestay in northern Vietnam?
7️⃣ Is there a wi-fi in homestay in Vietnam?
It depends where you will stay. If you stay at the mountain areas of northern Vietnam, there is no wi-fi, but if you will stay close to the town, there should be a wi-fi.
BOOK A TOUR / ACTIVITY in Vietnam
Where to stay|Transport|Vaccines|Food|Money|Calling|Trekking|Motorbikes|Weather|Uber|Mai Chau|Bac Ha|Hue|Airport|Kong