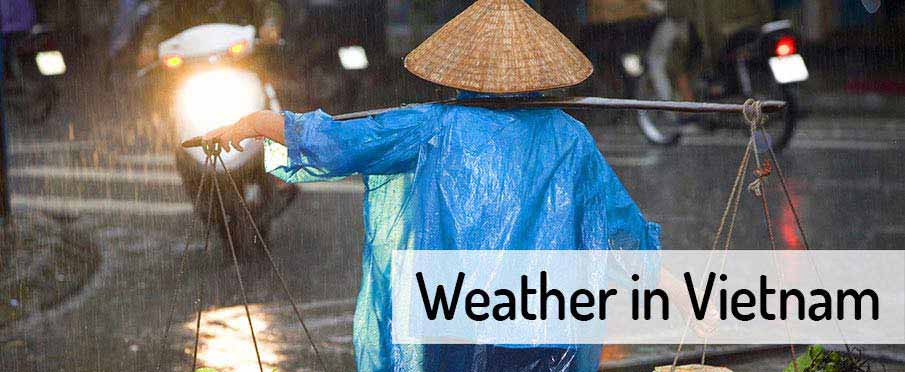 1. Weather and periods
2. Current weather
3. When to go to Vietnam
4. Individual areas
5. Average temperatures
---
The weather in Vietnam differs between the south and north of the country.


Northern Vietnam lies in the subtropical zone and the south lies in the tropical zone. Two monsoon periods alternate in Vietnam, largely effecting the different weather systems in the north and south. Generally warmer weather prevails throughout Vietnam, except for the northern mountainous region. In general you can never predict exactly what the weather will be the next day, it,s that variable and localized.
The rainy season is during the summer months, with sometimes quite intense rainfall, but it does not continue for too long. The average annual temperature in Vietnam is 22 to 27 °C.


Weather in northern Vietnam:

• cool to cold season in northern Vietnam – from October to March
• warm to hot wet season – from April to October
(Spring = March – April, Summer = May – October, Autumn = Mid-September – November, Winter = December – February)
Weather in southern Vietnam:

• cool to cold season in southern Vietnam – from November to February
• hot weather in southern Vietnam – from April to September
• June, July, August, September – rainy and wet months

Current weather, conditions, temperature in Vietnam

icon-angle-double-down

 
HANOI WEATHER
DA NANG WEATHER
HO CHI MINH WEATHER

Weather is sometimes like roulette – especially in northern Vietnam.

Weather in northern Vietnam is generally cooler than in other countries of Southeast Asia at the same longitude. You can't predict when exactly to go to northern Vietnam, because the weather is so variable day to day. Temperature and climate, however, does differ on average between individual months.

Temperatures in northern Vietnam:

• November to March (10 – 15 °C) – cool to cold season
• April to October (may rise to 30 – 35 °C) – warm to hot weather
• in December and January temperatures can fall to 0 °C
The rainiest month in northern Vietnam is August and in the south it is May.
Hanoi has the wettest season in July, August and driest months are December and January.

When is the best time to visit Vietnam?

Northern Vietnam
The best months to travel in northern Vietnam are from October to April. It is the dry season, with less precipitation than in summer and pleasant temperatures. However, beware of the months December and January, as it can be very cold and may even snow in mountainous areas.
Central Vietnam
Suitable months to visit central Vietnam are from January to August when the temperature is around 30 °C. You can expect more precipitation in October andNovember. The beach resorts have a dry season from January to September and high temperatures.
Souhern Vietnam
Southern Vietnam has higher temperatures throughout the year compared to the central and northern parts, the average temperature is around 25-30 °C. The dry season in southern Vietnam is from November to May and the rainy season is from June to October.

Dense fog can also occur in the winter months, and visibility on the roads is reduced. Temperatures can fall below 10 °C in some mountainous areas and it may also snow. Roads may be slippery so if you are riding a motorbike be very careful. Hoang Lien Son national park around Sapa has recorded a temperature of -3 °C.
When going to the mountains, do not forget to pack the warm clothes!

The weather in the mountains can change rapidly from warm to cold!
Weather in Sapa:

The best conditions for trekking around Sapa and similar mountain areas are the months of September to November. Daily temperatures during this period are from 15 to 28 °C and a night temperatures are from 10-18 °C. Its good time when you want to hike to the highest peak of Vietnam – Fansipan.
• warmest weather – from June to August (high temperature for trekking)
• coldest weather – from December to February (cold, drizzle, may be fog, low temperatures)
• good weather for trekking – from March to May and September to October (spring is warm, may be rain or fog, variable temperature)
The good time for trekking in Sapa could be months of March, April, September, October. The rice terraces in September and October are in yellow color, and it comes a time to harvest. In April-May, there are rice paddies in green color. In Sapa are very low temperatures in nighttime from December to February. Be prepared for it with the appropriate clothing and good accommodation.
➜ Current weather in Sapa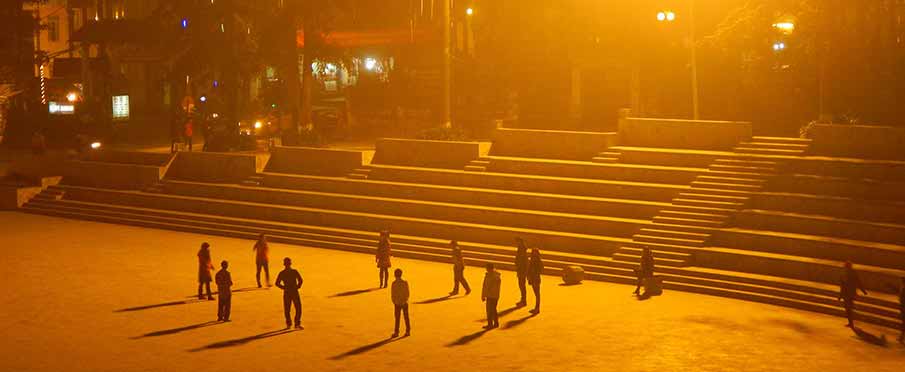 Weather in Hanoi:




Weather in Hanoi is divided into two periods. Hanoi has a hot summer with rainfall and dry winter:
• rainy season (from January to September)
• dry season (from October to April)
SPRING: it is humid, from February to April, the best time to visit, blooming trees and flowers, temperature 15-25 °C
SUMMER: it is hot, from May to August, a lot of precipitation, thunderstorms during the day but also in the evening, average temperature 32 °C
FALL: considered the best period from September to late November, the warm sun and cool breeze, the temperature 25 °C
WINTER: from December to late February, the average temperature is 17 °C
➜ Current weather in Hanoi
The average temperature and the number of precipitation in Hanoi:
Weather in Ha Long Bay:
Weather in Ha Long Bay has two different periods. In Ha Long Bay is a typical coastal climate and monsoon season.
• hot and humid with rains (April to September)
• dry season with a few cold months (October to March)
The average temperature in Ha Long Bay is 23 °C. The temperature can reach up to 35 °C in summer time. In the summer months can also occur typhoons and most precipitation falls. Winter season in Ha Long Bay can be very cold, and the temperature may fall to 13 °C. It is not very suitable to travel in Ha Long Bay in the winter months (especially December and January) and summer (July and August). Weather in Ha Long Bay, however, can be unpredictable at any time. In the presence of very heavy rainfall or typhoon the boat trips around the bay can be stopped. The best months to visit Ha Long Bay are September and October.
➜ Current weather in Ha Long Bay
Weather in Ha Giang:
The best time in Ha Giang is in the dry season, in the months from October to April. It is not good to go in this mountain area during the rainy season (May to September). The average temperature is approximately the same as in Hanoi. However, the number of precipitation in the rainy season is higher than in Hanoi. The roads can be very dangerous here.
➜ Current weather in Ha Giang
Weather in Ninh Binh:
Ninh Binh is located just 100 kilometers from Hanoi in the lowlands, the weather is almost the same as in Hanoi. The wettest and hottest months are June, July and August. The best months for visit are September, October, when the temperature around 25 °C. Some spring months are also suitable.
➜ Current weather in Ninh Binh
Weather in Moc Chau:
You can see hundreds of flowering fruit trees and shrubs in the months of February-March. It is the ideal time to visit this area. The weather in Moc Chau can be a little bit cool in December and January.
➜ Current weather in Moc Chau
Weather in Son La:
Generally mild climate, the weather is about the same as in Hanoi, with the exception of mountain areas. During the summer, warm air comes from Laos, the summer in Son La has high temperatures.
➜ Current weather in Son La
Weather in Mai Chau:
Weather in Mai Chau is almost same as in Hanoi. Mai Chau town is in the lowlands, in the summer there are high temperatures up to 35 °C, but very suitable temperatures to 25 °C in the autumn. In the winter months can be quite humid and foggy in the hilly area, so be careful when traveling.
➜ Current weather in Mai Chau
The rainy weather you encounter in Vietnam will be in the summer, so be prepared. The rain may be a short burst, but it can also be for a longer duration, and then it quickly switches back to beautiful and sunny weather icon-angle-double-down

Average temperatures in the cities of Vietnam

icon-angle-double-down

Sapa (northern Vietnam, mountain area, similar in Ha Giang)

icon-angle-double-down
Hanoi (northern Vietnam, lowlands)

icon-angle-double-down
Da Nang (central Vietnam)

icon-angle-double-down
Ho Chi Minh City (southern Vietnam)

icon-angle-double-down
Read also > Average temperatures in 25 cities of Vietnam
---
Accommodation|Transport|Homestay|Money|Calling|Trekking|Airbnb|Uber|Tips|Motorbike|Weather|Mai Chau|Ninh Binh|Sapa