Executive Summary – Go! I'd recommend a trek and homestay in Sapa.
I'd highly recommend a genuine  local guide and homestay, an experience to write home about – around $30 which you can negotiate and no agencies! We used Mama Chu,  she was brilliant, telephone 0163 4960025. If you want to see a typical trek, see this video of homestay in Sapa, it's a very good video giving you a really realistic idea.
Sapa, a homestay and a trek.
Well I would thoroughly recommend it. Yes it's busy, yes there's a lot of tourists, but it's lively and it's different. A Change is as good as rest, there's plenty of quieter and more 'authentic' spots around Vietnam so our visit to Sapa was a welcome change. Unless you are dyed in the wool hippy, anti the very thought of another tourist I think you'd enjoy it.
BOOK a TOUR / ACTIVITY in Vietnam
I'm an old fossil half a century old. My son Michael travelling in Australia and I thought a motorbike holiday in Nam would be a good adventure, certainly something different. Spurred on by memories of that great Top Gear special we went for it. We were a couple of weeks into our trip when we reached Sapa. Mike booked a room in advance on Agoda which worked like clockwork and we rolled up in the late afternoon.

Sapa town 

icon-angle-double-down

 

God it was always utter heaven to flop onto a hotel bed after a days riding. Doesn't matter how hard that bed is ! I would lie there and look around the nice room and after a hot shower think – £18uk – , for BOTH of us for the night, crazy good value.´
Wondering the town that evening you could see it did have a different atmosphere to our visits to other larger north eastern towns. A lot more tourists! Shops and restaurants more geared for tourists, a lot of locals approaching you selling bits and bobs. Was it 'overwhelming', no not at all in any way, just a pleasant change really being a bit more lively was quite welcome, this was in October.
Sitting on a pavement cafe we bumped into Ollie and the lads from Bracknell we'd met on the road a few days before. We swapped stories about motorbike breakdowns and who had the most epic break down recovery story, helpful locals always featured highly. I don't think we'd get help like that broken down on the north circular.

Meeting Mama Chu 

icon-angle-double-down

 

We had asked at the hotel for a trek recommendation and had no joy (as it happened). Heading past the lake at the centre of town on the way to the tourist information office. We were approached by a friendly lady in Hmong traditional dress.  Mama Chu was very well organised and told us about what she'd do for a mini trek and homestay. She won us over and we agreed to start the next morning.
Trekking in Sapa 

icon-angle-double-down




We started off from the Church and headed past the market. Our Dutch companions on the same trek asked us if we'd seen the dog meat (the heads with the meat), no we missed that bit but the market was interesting. We headed off 'up the mountain path' and started winding our way down the valley to the south east. Mama Chu took pity on the fossil and carried my bag as i started to look a bit peaky and make weird gasping noises. It wasn't that bad but she is a very fit lady. It emerged her shoes don't last long, a few months, she goes through quite a few pairs.
The views are spectacular, even in the mist, some trekking was so welcome after riding around, you felt like you were earning the views. Lunch was a hillside cafe with conceived spectacular view. After a bit of negotiation with the owner who she seemed to know well Mama Chu produced some sticks of sugar cane to chew on , tastes nice bit of a guilty treat. We chat to our Dutch trekking companions who like the idea of Michaels odyssey around Auz. We later walk past a garden stuffed full of weed plants much to my amusement especially at our Dutch friends extreme interest. We never did get to sample the produce, I think there may be a more proper use for the hemp than the more obvious use going through my mind.
Mama Chu is absolutely incredibly friendly to people we meet along the way. She's kind of like a walking ray of friendly sunshine and it's soon obvious this isn't any kind of act. You have to take your hat off to her, well I would if it wasn't with her in my ruck sack.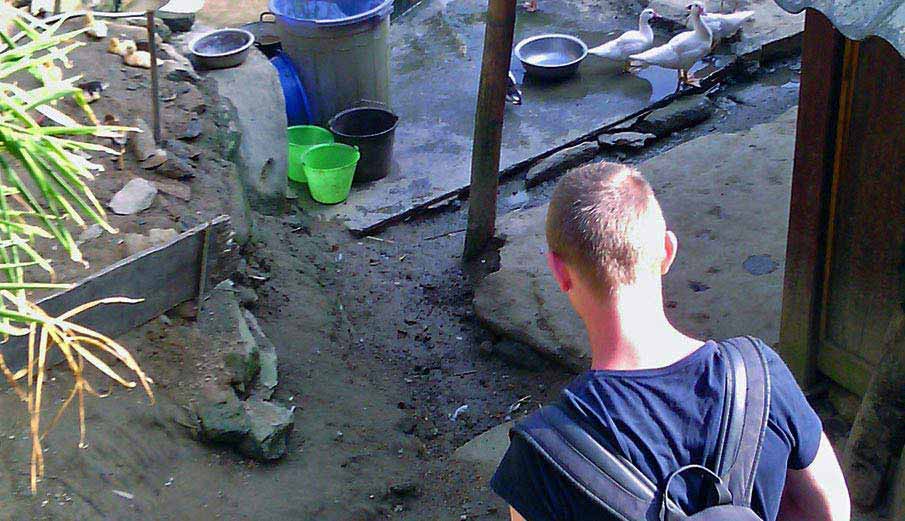 Homestay in Sapa 

icon-angle-double-down




We arrive at the homestay. I can't really quite believe it. Stepping over rocky slabs set in the the hard mud and down a few narrow trails among fences of other wooden houses we reach Mama Chu's place.
It's a wooden house with our bedroom at the end and a porch at the front – tropical it seems perched on the mountainside amongst a little village of houses, I sat and listened to a lady singing away in the neighbouring house what seemed like a traditional working folk song (not Beyoncé in the shower) it was really quite magical with the ciqada chirps in the background.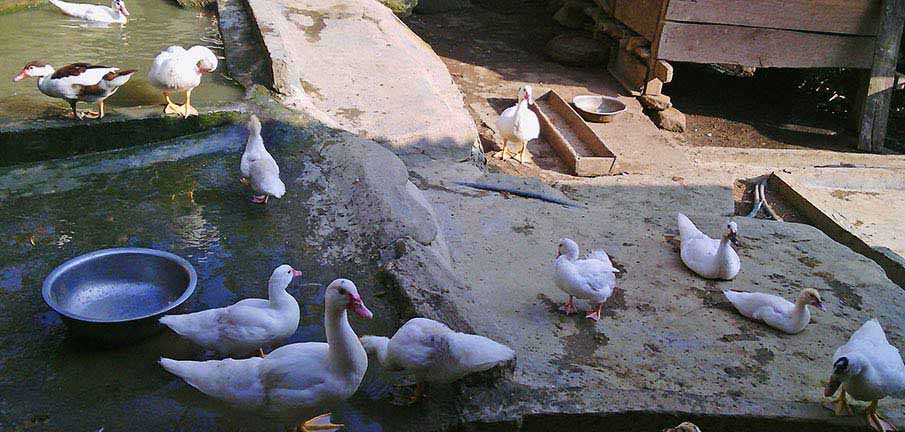 Mama Chu offered us a shower but it took some time to work out what she ment . The only water in evidence was a massive stone jar at the end of the porch so where this shower was we couldn't work out. It turned out to be a rock pool 50 yards up the path. That was a welcome wash floating about in the pool with a mountain stream flowing through and a local lady washing her clothes over in the corner of the pool.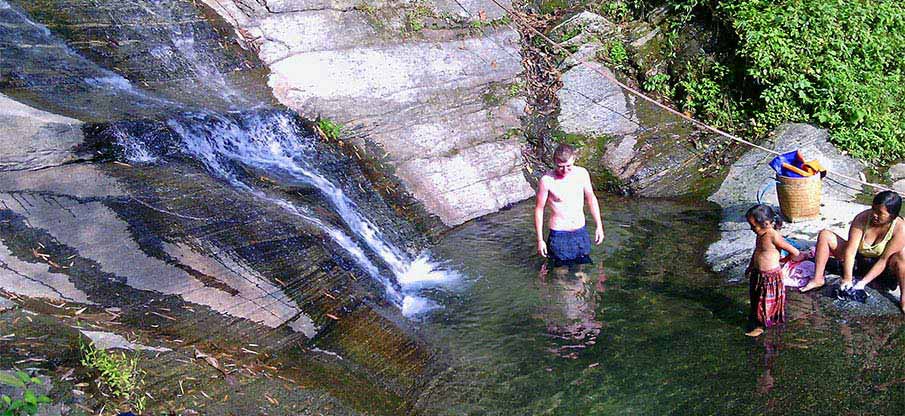 The evening was a walk out with Mama Chu's son across the rice paddies perched on the valley side traversing the mud ridges, around the water buffalo at close quarters, and enjoy the setting sun. Mama Chu's son has moved on from her Nokia 3310 and is fully smart and heavily into music, he guides us round and doesn't lose us on the mountainside somewhere …..'and where did you last see them …'.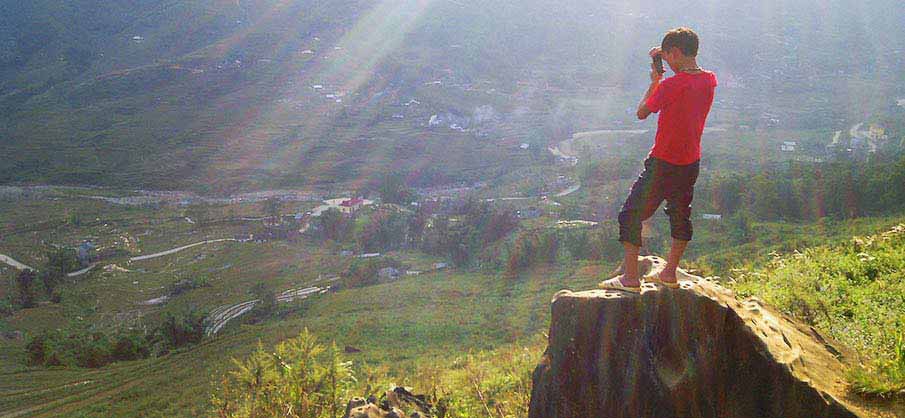 After a stunning evening meal with family we crashed out in bed. I didn't really see a kitchen as such and that was an amazing meal she seemed to conjure from nowhere. It certainly lived up to all our previous Vietnam meals, none of which were a write off and 99.99% absolutely amazing. I tried my best to do the washing up … but Mama Chu politely didn't understand my offer, I don't think she trusted me with that at all!
Second day after a big breakfast was more walking around and back looping up the valley back to Sapa. I can imagine in hot weather this is quite hard work but it's really just an extended walk and you should go for it rather than opt for a lift Back in Sapa we run into our Dutch friends who did opt for a lift, true grit we showed lol.
Goodbye Mama Chu that was a fantastic time. Thank you.
Ben + Michael.
Accommodation|Phan Thiet|Da Lat|Airbnb|Trains|Motorbike|Visa|Ninh Binh|Siem Reap|Mai Chau|Sapa|Vung Tau|Cat Ba|Train tickets|Hue