1. What is Airbnb?
2. Airbnb in Vietnam
3. How to find Airbnb?
4. How much does it cost?
5. How to use Airbnb?
6. How to apply free credit?
7. Recommendations
8. What to watch out?
9. Important information


Airbnb in Vietnam is slowly and surely growing. And not only in the cities.
A lot of people already have some information about accommodation from Airbnb or they are already using this service. But there are also people who still do not have any useable information about Airbnb or do not know what they can expect from. In this article you will find basic information about Airbnb, how to start using Airbnb and where and for how much you can rent an accommodation with Airbnb in Vietnam.
---
What is AIRBNB? Accommodation + Experiences.

🏡 Airbnb is a web service that lets you book a non-traditional, authentic, but also hotel accommodation in nearly 191 countries worldwide. Something like Agoda and Booking. Airbnb is focusing mainly on unusual accommodation, you will find here various unique architectural pieces, accommodation in the jungle, in the trees, in the castle or in the stylish houses near the sea, etc. It's actually a community of people who come together and offer to rent their homes and rooms. Airbnb company was founded in the USA in 2008 and in the last years is still growing, but somewhere however, has been banned.
🚶In November 2016 Airbnb announced a new service "Experiences" (Airbnb Trips) that will be phased in. People on Airbnb will be offering various tours, experiences, associated with eg. a sport, entertainment, trekking, etc.
BOOK a TOUR / ACTIVITY in Vietnam
---

With Airbnb in Vietnam you can book accommodation as a homestay.


Most of these offers is from locals who owns that property and know very well their place and city (this is not everywhere). Communication in web service runs unlike other services directly with the owner the property and it is very simple and intuitive, English is essential for this communication.
[ HOMESTAY > APARTMENTS > ROOMS > HOTELS > BUNGALOWS ]

The widest range of Airbnb in Vietnam is in Hanoi and Ho Chi Minh city.


Hanoi and Ho Chi Minh City – 2 largest cities in Vietnam. Millions of inhabitants. And here is the widest range of accommodation options from Airbnb host families, homestays, but also hotels. There are very nice, clean, modern and also stylish places. There is no problem to rent a decent room even for a whole month at a cost of about $ 500. In the center or on the out of town? You can have it. Airbnb accommodation, however, appears in smaller non-tourist areas but also in the villages of ethnic inhabitants.


You are in direct contact with the locals and their culture and customs.


Why try Airbnb in Vietnam? Airbnb in Vietnam is growing and some type of accommodation is a homestay with the ethnic minorities of the northern Vietnam. This contact with locals is a great experience and familiarization with foreign cultures. Ethnic Hmong and Tay are with you in direct contact. They offer accommodation in typical stilt houses in the villages. When you are traveling through the northern Vietnam you need to try it, I recommend this.
Airbnb offers in Vietnam also typical hotels, read everything on Airbnb website.


If you want use Airbnb in Vietnam only for accommodation in homestay with locals, be careful when choosing on Airbnb website. There are also hotel complexes and other type of tourist agencies that appear on other websites. However, the majority of accommodation is with host families in apartments or stilt houses in the villages in the form of a homestay. Airbnb offers also luxury apartments in cities, or boat trips in Ha Long Bay.

Search for the accommodation directly on the map in the Airbnb website.


After signing up to Airbnb when you search an accommodation the Google map will be shown. When moving the cursor above the map, select the option to map "Search as I move the map". When scrolling the map it will show variations of available accommodations with current prices. Search on the entire site and using the Airbnb website is very simple and intuitive. Use filters and filter the possibilities of accommodation according to other listed parameters, prices, or forms of accommodation.
[ SIGN UP > SEARCH FOR ACCOMMODATION > BOOK ]
Where else can I find an apartments through Airbnb in Vietnam?


Airbnb in northern Vietnam is available at the following locations: Hanoi, Ha Long Bay (be careful here, some offers are boat trips), Hai Phong, Sapa, Ninh Binh, Cat Ba Island, Ha Giang. Furthermore, also in Mai Chau, Ba Be National Park, Bac Ha, Vinh, around the Ba Vi National Park. Gradually appears even more, I recommend to search on the map in the Airbnb website.
Airbnb in southern Vietnam dominates mainly in Ho Chi Minh City, Hue, Da Nang, Hoi An, Tuy Hoa, Nha Trang, Phan Tiet, Vung Tau, Vinh Long, Can Tho, Phu Quoc. In the selection, however, included plenty of hotels of the travel agencies.

What are the prices for the accommodation for Airbnb in Vietnam?


Vietnam is relatively a cheaper country for traveling. Recently, however, Vietnam is dynamically changing and modernizing, and we can therefore expect the prices for accommodation or services will be growing. It is no problem to find a cheap hotel room from $ 10 on Airbnb, but there are also expensive modern luxury apartments, flats and rooms. Accommodation in the small villages – homestay of ethnic residents is around $ 10 – 17 / 1 night, usually in a shared room.


[ PRICES START FROM $ 10. END IN HUNDREDS]
Homestay in the village > $ 10 – 15 (1 night)
Room in private apartment > $ 15 – 50 (1 night)
Hotel room > $ 15 – 80  (depends on quality, 1 night)
Luxury room or apartment > $ 100 – and above (depends on quality, 1 night)
Private room for a whole month > $ 450 – and above

(Prices are indicative, of course, prices may be a little different)

Accommodation in the trees near Hanoi – the capital of Vietnam Hanoi? Yes.


Airbnb offers in almost every country unusual and original place for accommodate. There are eg. hotels in the treetops, train or even in containers. One of these places is Skyhorsevalley (Dao Anh Khan Studio). This authentic beautiful place offers several advanced and stylish 'art' accommodation at the price of around $ 45 – 100 / per 1 night. One of them is the accommodation in the trees, about 15 minutes from the heart of Hanoi. Skyhorsevalley is the project of the vietnamese artist Dao Anh Khan.
Looking for a luxurious and stylish apartments? No problem with Airbnb.

Standard quality room you can rent in Hanoi on Airbnb already from $ 10 – 15. Airbnb in Vietnam offers accommodation in hotels, there are also offers of tours, trips and treks or boat trips in Ha Long Bay to several hundreds dollars. In tourist places (eg. Hanoi, Ha Long, Sapa, Hoi An, Nha Trang…) you can rent without any problems quality and stylish accommodationb, hotels as well as private rooms or apartments.


How to start with Airbnb and book accommodation?

Before you start choosing accommodation on Airbnb, you must register on the site (it is FREE). When you finished registration you have your profile on Airbnb. Sign up here via this link.

How can I book accommodation on Airbnb?

1. Register on this link on Airbnb (registration is FREE)
2. Complete your personal profile (name, photo… Why do I need to have an Airbnb profile or profile photo?)
3. Start searching (enter the location, number of guests, dates… How do I search for listings?)
4. Book accommodation (Instant book, reservation request, pre-approval or special offer)


How to apply obtained travel credit from Airbnb?


After you will receive a free credit in your account on Airbnb, you can immediately start to book accommodation and apply this credit. The condition for the applly of free credit is > a single booking on Airbnb worth at least $ 75 (this amount may increase as well as decrease according to the Airbnb promotions). Watch Airbnb website, tab in your profile "Travel Credit". Credit is useful if you book for example 4 days for $ 100 (from $ 100 will be deducted your obtained free credit).
Information about using of coupon from Airbnb:
> For one reservation can be applied only one coupon
> If a coupon expired, it can not be reactivated
> Coupons can be used only once more
> If you cancel the reservation booked using with the coupon, the coupon is no longer valid
> Accept only coupons issued by Airbnb
> If you do not use the full amount of the coupon, you will not be reimbursed the difference
> Coupons can not be used on the rebound
(Information about using taken from the website of Airbnb)

Recommend Airbnb to your friends and earn travel credits.


You can receive travel credits when you recommend Airbnb to your friends. Unlike coupons, these credits are automatically applied when you book your accommodation on Airbnb.
> Travel credits can not be combined with any other coupons
> Travel credits can be used only for legitimate bookings (usually those whose value before adding fees or taxes guest is at least $ 75)
> Travel credits you receive after completion of the reservation of the person that you recommend for Airbnb
(The information about the recommendations taken from the Airbnb website)

The entire information here > How do I use a coupon code and travel credit?

What to watch out when choosing a reservation on Airbnb?


Airbnb is almost perfect service, but it is necessary to be cautious when you are selecting and booking accommodation. Here, as elsewhere on other booking portals can occur after arrival to disappointment. However, if you follow a few tips and guidelines you can eliminate these risks significantly.
> Choose your accommodation from trusted providers
> Check out reviews of accommodation from other travelers
> The longer the offer is in Airbnb and has positive reviews, the better
> Read the rules of departure and arrival
> Carefully look the profile of the provider if there is everything you're looking for
> Look when the provider require additional payments (eg. for Wifi, etc.)
> Good provider should have a well-filled profile and quality photos of his apartment
> Write a message or question to owner
> Cancelation (flexible – can be canceled within 24 hours with a full refund, moderate – can be canceled within 5 days of full replacement, strict – can be canceled within 7 days, with a 50% refund or very severe – for 30 days, very strict – 60 days and long-term)

Information and questions about booking on Airbnb:

What is immediate reservation?
When will I pay?
Can I pay in any currency?
When I pay for a reservation?
How Airbnb works with a bail?
What payment methods Airbnb recognizes?
How do I edit my profile or profile picture on Airbnb?
How the evaluation work on Airbnb? How to write reviews?
Do you want to contact Airbnb and solve another problem?
Do you want to become a host, rent a property and earn money?
All the answers to your questions also can be found on the Airbnb help page.
Airbnb has also mobile application – download here > ANDROID > iOS
Airbnb application is very nicely handled, control is simple, application is fast and everything is clear and with almost all world languages. If you use Airbnb definitely I recommend to install this application to a mobile phone, when traveling is certainly useful.
BOOK a TOUR / ACTIVITY in Vietnam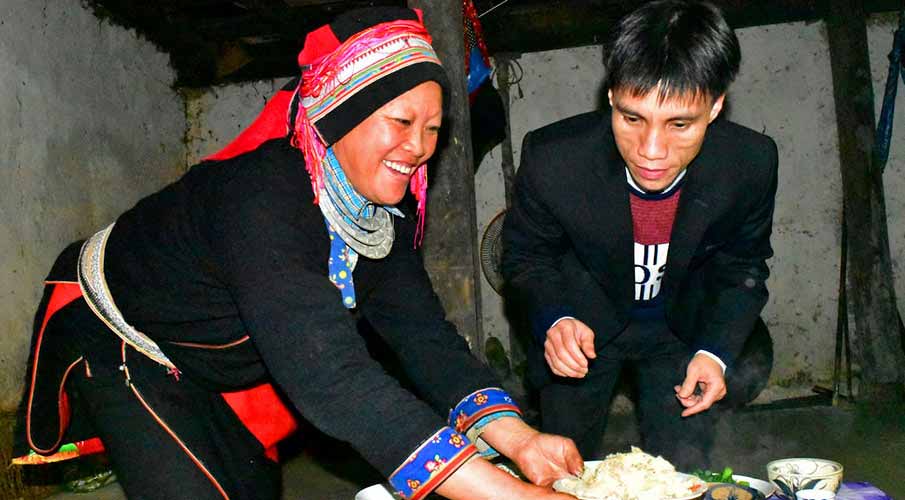 Some of these photos are from my gallery and some were placed by courtesy of viet. companies Truly Ha Giang and Sky Horse Valley.
Accommodation|Transport|Motorbikes|Homestay|Money|Trekking|Sapa|MaiChau|DienBien|Ninh Binh|Ha Long Bay|Tips|Lai Chau|Hanoi|Hue