1. Where to stay in HANOI
2. Where to stay in SAPA
3. Where to stay in HA LONG
4. Where to stay in CAT BA
5. Where to stay in NINH BINH
6. Where to stay in MAI CHAU
7. Where to stay in DIEN BIEN
8. Where to stay in HA GIANG
9. Where to stay in CAO BANG
10. Where to stay in MOC CHAU
11. Where to stay in BAC HA
Vietnam has a wide range of accommodation in the big cities.
The offering has grown over time, new hotels were built and the new tourist centers were created. A lot of hostels, hotels and guesthouses (Nha Nghi) have a good standard quality with a good range of services. In the big cities and the beach centres, there is also a good range of luxury hotels with all the mod cons. This is especially true of Hanoi, Ha Long and Sapa. There is no longer any problem booking accommodation online.
A lot of hotels and guesthouses have Wifi internet access and hot water. Some of the 3 star hotels have air conditioning and a television. But there is one problem – a lot of hostels have hard beds!
Tourist places especially have a wide range of accommodation.
Some hotels require a passport, or a printed copy of the passport may do for a one day stay. They record your passport details as a police requirement. It is not recommended leaving any valuables, documents or cash in the hotel. Some hotels have safes, I recommend using them.

Vietnam has a lot of guesthouses (Nha Nghi) and hotels of good standard quality.
Northern Vietnam is a large mountainous region and some of the less visited places do not have good accommodation on offer. The quality of accommodation in these areas is slightly lower with a more limited range of services than say in Hanoi or Ha Long Bay. In remote provinces there are'nt any luxury hotels. This will change slowly over time, and some luxury hotels will grow up. Airbnb also works in Vietnam . For example you can find a lot of very high-quality and affordable accommodation with host families in Hanoi.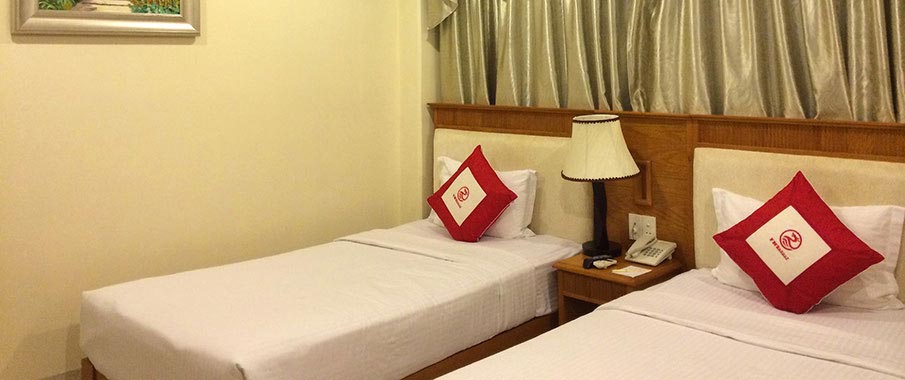 Plenty of places to stay also offer additional services.
Excursions, hikes, treks, laundry, rent a bicycle, motorcycle or guide. They can often provide transport to your next journey point. Ask questions and communicate if at first it does not seem they offer something. The cheaper versions of guesthouses or hostels often don't have any food. That said it shouldn't be a problem as you can buy food on every street in the town.
Find a great range of accommodation on these well-known search portals 

icon-angle-double-down



Accommodation in Vietnam can be found in any of these booking sites, I recommend to search for accommodation on Agoda or Airbnb. The offer of hotels, homestays or bungalows on these portals is very large.
AGODA – well-known search website for accommodation around the world for all travelers. Hotels, homestay, guesthouses – big deals (sometimes there are also big deals – 50-60%).
BOOKING – also well-known search website for accommodation around the world, one of the biggest deals from all the world, hotels, homestays, guesthouses from Vietnam.
AIRBNB – Airbnb in Vietnam offers accommodation in different and unusual places. You can also offer a room for rent in your house. You can find here some very good offers from northern Vietnam, also some homestay accommodation.

Homestay accommodation – experience the daily life of local residents.
Another alternative for accommodation in the mountainous areas of northern Vietnam which I recommend , is the popular homestay (you live with a local family and share their house with them). There are modified forms of homestay accommodation specially for tourists (they have a shower, toilet, Wifi or even TV) or you can try real homestay in villages with the ethnic minorities (they do not have these amenities). If you want to see the daily and village life of the ethnic minorities for real, you need to try a homestay. It is a great experience ! Homestay also offers the chance to meet other local people from Vietnam eg. in Hanoi and Ha Long. If you want to try out these offers, you can find them on AIRBNB.

APPROXIMATE PRICES for accommodation in Vietnam:

1. Hostel – shared bed for backpackers – 4-8 USD / 1 night
2. Hostel – NHA NGHI – single bed – 7-13 USD / 1 night
3. Hotel – standard quality – single bed – 8-25 USD / 1 night
4. Hotel – luxury quality – single bed – 30+ USD / 1 night
5. Ethnic minority homestay (without the agency) – 7-15 USD / 1 night
6. Ethnic minority homestay (through the agency ) – 20-30 USD / 1 night
7. Private room from Airbnb – host family – from 10 USD / 1 night (Hanoi)

Prices are approximate. Very decent bed in a standard hotel (eg. In Hanoi) you can buy for 8 USD (depending on the time when you come here, but also on the capacity).
Homestay accommodation included also a trek into the surrounding (with a guide from the agency or people from ethnic minorities). I recommend to buy a homestay without the agency, ask the people from ethnic minorities.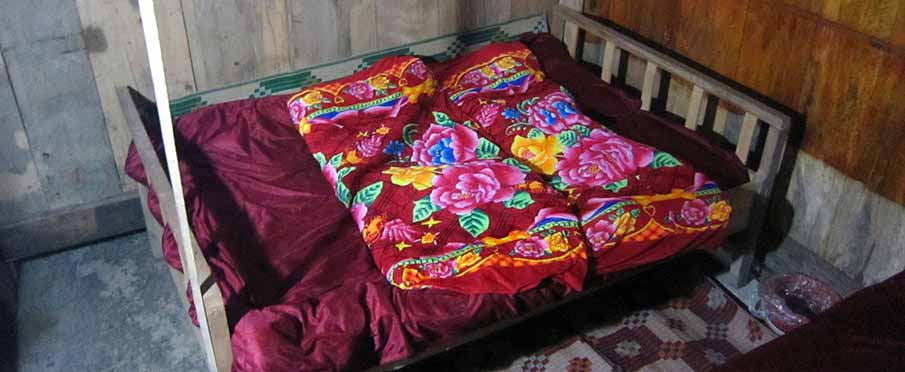 HANOI – Where to stay in Hanoi:


Hanoi offers a wide range of accommodation from cheap hostels, guesthousesand even luxury hotels. If you are traveling alone it is easy to find a private room in a good hotel in Hanoi for 10 USD with breakfast. A very good double room may cost about 7 USD / per person.
The best and the largest offer is in the Hoan Kiem district in the city center (Old quarter). This area can be recommended as a very good starting point for exploring Hanoi. Hoan Kiem lake and the Old Quarter in Hanoi is also the city center of restaurants, shops and markets. There are also plenty of cheap hostels for backpackers where you share a room dormitory style, with prices starting at 5 USD / per person. These hostel rooms are for younger travellers, you share a bathroom and toilet, and some rooms have a light breakfast. Older travellers may feel a bit out of place in a hostel.
Beware of "copying" of hotels in Hanoi. Its possible that you will see one hotel two times!. One of these hotels is a copy of the original and actually belongs to another owner. Before you choose a hotel, write down the real address. A taxi driver could you take to a different place with the same name that is a copy.

SAPA – Where to stay in Sapa:


Many tourists and travellers go to the mountain town of Sapa , so it has a good choice of different types of accommodation. A lot of hotels have standard and even very good quality rooms and service. In the main season (September to April) capacity may be more limited, so it is recommended to book ahead online. Hotel prices are slightly higher compared to Hanoi, but still low. A single room may set you back about 10-15 USD, a double room about 10 USD / per person. Prices for shared rooms / dorms is almost the same as in Hanoi, 5-10 USD / per person.
If you are staying in Sapa in winter, choose a room with heating if you dont want to freeze your knackers off , temperatures can even fall below 5 °C. Sapa town is in a mountainous area (1,500 m above sea level) and blackouts are not uncommon. A popular form of accommodation is a homestay with local people from ethnic minorities (Hmong, Dao). Homestay accommodation and ethnic minorities can be found in each village in the Sapa area.
It is a very good idea to ask the local people in the town to direct you to who can offer a homestay. Accommodation with food in a village with ethnic minorities costs from 10-20 USD per person / per night. You can spend a whole day andnight there and learn about their daily lives. It is a great experience. There are a lot of " imitations" of real homestays particularly in Tavan village about 10 kilometers from Sapa. These imitations are really tourist log-houses, and they have a shower, toilet and even wifi.

HA LONG – Where to stay in Ha Long:


Ha Long Bay is one of the most visited places in Vietnam. Visitors come here to visit the world famous bay with thousands of islands – Ha Long Bay or Cat Ba island. It is a very popular spending 2-3 days there on a boat between the islands.
Ha Long Bay and Cat Ba island has a lot of accommodation of various categories, from cheaper hostels to luxury hotels. It is not a problem to quickly find a hotel or hostel. Quan Lan island has only a few hotels.

CAT BA island – Where to stay in Cat Ba:


Cat Ba is one of the most beautiful islands in northern Vietnam. Half of Cat Ba Island is a National park with its beautiful hills, lakes (Ech – the largest lake) and two caves (Hospital Cave and Hang Trung Trang Cave). The park was founded in 1986 primarily to protect the interesting ecosystems (forests, swamps, mangroves and reefs).
At the eastern side of the island lies the beautiful Lan Ha Bay and several unexplored and deserted beaches. The Island occupies an area of approximately 350 km² and is one of the prettiest islands in Ha Long Bay.

NINH BINH – Where to stay in Ninh Binh:


Ninh Binh city has a several historical monuments in the area. Hoa Lu – historically, formerly the capital of Vietnam, Trang An scenic complex or Tam Coc. These are the main attractions of this beautiful area in the lowlands with high hills and beautiful views. Boat rides and a visit to Cuc Phuong National Park Reserve and Van Luong.
The area is also suitable for cycling. Ninh Binh has a lot of types of accommodation especially in the city center. Accommodation, hostels and hotels are mostly middle category in low price ranges. It is not a problem to get a private room for one person for 10 USD / night.
❱ BOOK YOUR STAY IN NINH BINH ❰

MAI CHAU – Where to stay in Mai Chau:

Mai Chau town and surrounding area is a huge 20 km large valley with rice fields. You can ride a motorcycle to the hilly areas, the paths here are in fairly good condition and the area near the Hoa Binh Lake is fantastic. This area is inhabited by people of Thai ethnic group (White, Black), but also some groups of Hmong.
There is a lot of homestay accommodation (ethnic Thais) in the town and surroundings. Around the city there are plenty of villages where you can choose some type of homestay. Most of these homes are adapted for tourists, there is good sanitary facilities, WiFi, hot water. In the cold season, however, be aware, the evenings are very cold. Even here, however, you will find some good hotels.
❱ BOOK YOUR STAY IN MAI CHAU ❰

DIEN BIEN PHU – Where to stay in Dien Bien:


Dien Bien Phu city lies to the west of northern Vietnam, approximately 10 km from the border with Laos. It is located in Muong Thanh valley in a heart shape, 20 km long and 6 km wide . There is also an airport with regular flights to Hanoi and back. Flights are operated by Vietnam Airlines 3 times a week.The range of accommodation on booking websites is more limited, but you can find some hotels and cheap guesthouses  in the center of the city.
❱ BOOK YOUR STAY IN DIEN BIEN ❰

HA GIANG – Where to stay in Ha Giang:

One of the most beautiful and remote places of northern Vietnam is Ha Giang. Villages with ethnic inhabitants, fascinating scenery, mountains, valleys and nature. This is an area still untouched by mass tourism. Tourists come here in considerably smaller numbers than for example Sapa. The range of accommodation is a little bit smaller.
In Ha Giang town you will find lower category hotels, Guesthouses (Nha Nghi), but also offers of homestay accommodation. If you continue to Dong Van and Meo Vac, there is still local Nha Nghi and cheap hostels.
❱ BOOK YOUR STAY IN HA GIANG ❰

CAO BANG – Where to stay in Cao Bang:

If you are looking for not so visited and beautiful province of northern Vietnam, you should definitely visit Cao Bang province. There is no airport and no railway, so you have to travel by bus, private car or motorbike. Cao Bang is the biggest city of Cao Bang province and it has various cheap hotels, guesthouses or homestays for tourists. The most visited site of this province – Ban Gioc Waterfall has also some hotels and there are also some local authentic homestays close to the waterfall. Prices are low and homestays are ideal option if you want to meet some local ethnic people.
❱ BOOK YOUR STAY IN CAO BANG ❰

MOC CHAU – Where to stay in Moc Chau:

Moc Chau is a place of the biggest tea plantations in northern Vietnam. If you are interested in producing or growing tea, you should go there. There is also a possibility to buy various types of tea and you can also taste some local products, like milk, honey or juice. Moc Chau is located in Son La province, about 60 km from Mai Chau. This town is accessible by bus, private car or motorbike, there is no railway and no airport. If you can, rent a motorbike at your hotel / homestay in Moc Chau and explore this site on your own. There are various small ethnic villages and beuatiful nature sceneries around this town. Moc Chau has mainly cheap small hotels, guesthouses, homestays and also some bungalows and prices are low.
❱ BOOK YOUR STAY IN MOC CHAU ❰

BAC HA and LAO CAI – Where to stay in Bac Ha:

Bac Ha is about 35 km from Lao Cai town. Bac Ha is a center for the Flower Hmong ethnic minority. The popular Sunday market of the Flower Hmong is not the only activity in this area. The whole neighborhood is suitable for light trekking and exploring the life of ethnic minorities in the villages. Bac Ha can also be a short stop if you continue to Ha Giang province. The town offers hotels of lower category, but perfectly adequate for a few nights.


LANG SON – Where to stay in Lang Son:

Lang Son is a strategic point in the eastern part of northern Vietnam. Dong Dang border and Thanh Tan gateway of friendship is also used to promote good business relations among local residents. The history of the province is associated with the Bronze Age, when this city was passed by a trade route that connected China (Guangzhou) with India. The surrounding area is low-lying and mountainous. The best visit is Mau Son mountain or Bac Son valley which is 60 km from the town. Lang Son town offers mid-priced hotels and lots of Nha Nghi guesthouses.
❱ BOOK YOUR STAY IN LANG SON ❰
Accommodation in central and southern Vietnam icon-angle-double-down
There is a large range of quality accommodation. Beach resorts with hotels, hostels as well as homestay and bungalows at sea. Here is a selection from the Agoda website. I think Agoda is the best option how to book your accommodation online in Vietnam.
Book your accommodation on these verified websites

icon-angle-double-down
Accommodation|Transport|Markets|Homestays|Money|Weather|Trekking|Cao Bang|MaiChau|Ninh Binh|Moc Chau|Sapa|Hanoi to Hue