Information about this pass
How to travel on this pass
Road + Weather in Ha Giang
What to see on this pass
FAQ + Travel Tips
Photos of Ma Pi Leng Pass
Ma Pi Leng Pass in Ha Giang – probably the most beautiful pass in the north.
Northern Vietnam has a lots of nice mountain passes, small to very large. The most beautiful, fascinating is probably the Ma Pi Leng Pass (Mã Pí Lèng Pass) in Ha Giang Province (approx. 1500-2000 m). Where is the Ma Pi Leng Pass? Ma Pi Leng Pass is located between Dong Van and Meo Vac (QL4C), the northernmost towns in the north of Vietnam, the length of the pass is approximately 20 km, approximately 10 km is the most impressive scenery.

The best start for the exploring the pass is to start in Dong Van town, a formerly remote ancient town, now well adapted to tourists and travelers. Dong Van (about 150 km from Ha Giang town) offers a range of cafes, restaurants and accommodation facilities, it is a good place where to start explore this area.

The most convenient way to ride the Ma Pi Leng Pass is to rent a motorbike.
From Dong Van do Meo Vac (via Ma Pi Leng Pass, about 25 km), you have several options how to travel. The most appropriate way is (but not for everyone), of course, is to ride a motorbike, but watch out for a dangerous mountain road, so it is not possible to recommend a motorbike to everyone, certainly not to people who have no experience with driving a motorcycle. Some people also do not ride on motorbike, or do not want to ride.

Before you get on the bike, read carefully this article – Vietnam on a motorbike, and watch what weather is coming in, in the foggy or rainy days, I do not recommend to ride a motorbike through a pass, choose another day. However, the road to Meo Vac is in a very decent condition, however, it may be worse during the monsoon/rainy season.

You can not or do not want to ride a motorbike? You have other transport options.
If you do not want to travel by a motorbike, then the another option is to use the local mototaxi (Xe Om) in Dong Van (hotel can arrange this transport, I recommend ask at the hotel), a classic taxi car, or a local small bus to Meo Vac, for the exact departure times you have to ask at the hotel in in Dong Van). The local bus is concerned, however, will not stop you on the viewpoints in the pass and count on the fact that you will want to take pictures and enjoy the countryside.

For those stronger – you can also ride a bicycle. Some companies in Hanoi also offer several daily tours to Ha Giang Province and just to the Ma Pi Leng pass, but you will pay, but on the other hand you do not have to deal with anything. Ma Pi Leng Pass is also part of the well-known "Ha Giang Loop" motorbike loop in Ha Giang Province. The route of this loop is Ha Giang – Dong Van – Bao Lam (Bac Me) – Ha Giang.

There are fascinating views already a few kilometers behind the Dong Van.
Describing the whole trail of the pass after a few meters, I think it does not make sense, let yourself be surprised. But I'll tell you that a few miles (about 5 km) drive out of Dong Van start with the first beautiful views of the pass and to the Nho Que River (but you may not see it in the mist).

The Nho Que river flows from China, it is 192 km long and has a length of about 42 km in Vietnam, and at the bottom of the pass, near Meo Vac, there is a dam that you can see from the largest view of the "Ma Pi Leng Viewpoint". Well, the whole stretch of the trip is actually called "viewpoint", which will surely please you.
Book your bus ticket from Hanoi to Ha Giang online + Schedule:

(You can change your departure, arrival and date, eg. Hanoi > Lao Cai, Ha Giang > Hanoi…)




What is the road in the Ma Pi Leng Pass? And what about the weather, when to go?
The road, because it is a mountainous area and still so detached, is of good quality, in a decent condition, you will not go much over some leaky roads or stretches of stones. At my taste, this road is quite easy, I have really gone worse damaged sections in the north of Vietnam. Of course, accidentally repairing a section or damaging the road I can not even rule out.

In very strong rainy weather, however, there may be landslides, so it is not advisable to go there during this period (as elsewhere in the mountains of northern Vietnam). It is recommended mostly autumn – winter (September, October – February) – dry season, but be aware that in the winter months, it may be very cold and take a very warm outfit. However, you can visit this place of course all year round.

What to see and visit in the Ma Pi Leng Pass? Any tourist attractions?
You can see various fascinating sceneries, some motorbikers/travelers, some ready-made scenic viewpoints, ethnic villages around the pass, ethnic residents, nature, mountains, Nho Que River, dam… everything is a part of the Dong Van Karst Geopark (Dong Van Karst Geopark is written in UNESCO heritage list). The whole area may seem to have been frozen in time, like other areas in Ha Giang Province (beware, but it is slowly starting to change, for example, the construction of masonry houses instead of wooden huts).

And some tourist attractions? No, there are not tourist attractions and it is ok 🙂 However, it can not be ruled out that this will change a bit in the upcoming years, I have already seen in the southern part of the pass the beginning of building some hotel right on the pass. I'm just praying, please, do not build there any tourist attractions! It is a unique area and should be protected.

What is a history of Ma Pi Leng mountain pass in Ha Giang?
The history of the construction of the QL4C road to the Ma Pi Leng passes back for decades, the construction of the road between Ha Giang – Dong Van – Meo Vac took place between 1959 and 1965, the most complicated stretch of the Ma Pi Leng was built up to 1 year. The construction was carried out by thousands of locals from different ethnic groups and surrounding provinces. Then this road got a nickname like "The Happiness Road".

Book a private tour in Vietnam

Before that there was no such road and horses were used for transport, and when you are lucky, you can see the horses of the locals who use the goods to transport to this day, However, the time and the world are changing and the motorcycles can be considered as a standard, some of the ethnic people are also adapting it.

Where to stay in Dong Van district, is there some accommodation?

Yes, you can stay in Dong Van town, there are various cheap hotels or guesthouses. Dong Van town is a good starting point for exploring Ma Pi Leng Pass, because it is only about 5 km from this pass. And there are also some shops, restaurants and also town market. You can choose from these very good reviewed selection:

Accommodation in Dong Van town: Hoang Ngoc Hotel ▶ Binh Minh Hostel ▶ Huyen Tram Guesthouse ▶ Ly Hoan Guesthouse ▶ Dong Van B&B ▶ Lam Tung Hotel ▶ Gia Linh Motel



icon-info-circle

 FAQ + TIPS – Ma Pi Leng Pass in Ha Giang province:
1️⃣ How to travel from Hanoi to Dong Van / Ha Giang?
The only way (if you are not traveling on a motorbike or with a tour agency) is to take a bus (or private car, taxi) to Ha Giang town and then take a local bus to Dong Van town. You can book bus tickets from Hanoi to Ha Giang and from Ha Giang to Dong Van online.
2️⃣ Where is the Ma Pi Leng Pass?
Ma Pi Leng Pass is between the towns of Dong Van and Meo Vac – Ha Giang province, the northernmost site in the north of Vietnam. It is at the border with China, the closes river is Nho Que river.
3️⃣ How long is the Ma Pi Leng Pass in Ha Giang province?
Ma Pi Leng Pass is about 20 km long, the most beautiful scenic passage is about 10 km long. Passing can take hours if you stop and take pictures and you will. However, if you just drive on a motorcycle and stop, it can takes about 2 hours, you could drive and stop at Meo Vac. From Meo Vac you can continue to Bao Lac, another nice passage.
4️⃣ Where to book a tour to Ha Giang province / Vietnam?
You can book private tour to Ha Giang province and visit Ma Pi Leng Pass easily online. Search and book a tour in Vietnam with

KLOOK

. There are a few tours to northern Vietnam.
5️⃣ What to prepare and what to watch out in Ma Pi Leng Pass?
I recommend to prepare a suitable time for a visit (choose dry period), if it is foggy or very rainy weather, I do not recommend to go there and try to choose another better day. It does not really make a sense to watch this amazing area in a foggy weather. In a very rainy season this section may be dangerous.
6️⃣ Is Ma Pi Leng pass dangerous?
Yes the road in this pass belong to the dangerous sections in this province. Some parts of the road are not protected. However, the road itself is in a good condition and it is not destroyed (but accidental repairs can not be ruled out), however, in very rainy or foggy weather, it may be dangerous. In 2017 there was also a fatal accident of a Spanish tourist who drove in a fog and at an inappropriate speed, unfortunately he left the road and died. So the most important thing – drive carefully and slowly.
7️⃣ I can not drive on a motorbike, what to do and how to travel?
Another option is to use a local motorbike taxi (Xe Om), classic taxi or local bus/minibus to Meo Vac. Ask at the hotel for a moto taxi, taxi or buses, usually they know this information or can recommend someone specific.
8️⃣ Ma Pi Leng Pass and cycling? It is possible to get there by bicycle?
Yes, it is possible to travel in Ma Pi Leng Pass on bicycle, but watch out for motorcyclists.
9️⃣ Which motorbike to choose to pass through the Ma Pi Leng Pass?
In the province of Ha Giang and to the Ma Pi Leng Pass, I recommend to choose a 110cc or 125cc / semi-automatic motorbike or better machine. I do not recommend driving on a very weak automatic scooter.
🔟 Is it possible to buy some snacks in the Ma Pi Leng Pass?
Yes, you can buy there some snacks/food, but it's limited. E.g. on the "Ma Pi Leng Viewpoint" you can buy also some souvenirs/drinks/light snacks. I recommend that you rather take something with yourself. However, I do not exclude that some new shops/restaurants will grow in the near future.
➡️ What to visit if I'am in Dong Van town?
You can travel by motorbike to Lung Cu Flag Tower, it is about 25 km from Dong Van town, a nice scenic ride. The monument consists of a 30-metre tall tower on the summit of Lũng Cú Peak.
➡️ Where to stay in Meo Vac town?

Ma Pi Leng Pass (Đèo Mã Pí Lèng) – Information:
Location: Mèo Vạc District (Ha Giang province) – Vietnam
How far is it: About 10 km from Dong Van town, 420 km from Hanoi
Ticket: There is no admission
Tourist attraction: Mountain Pass + Nho Que river + Tu San Canyon
How to get there: Motorbike or Taxi from Dong Van or Meo Vac town
Length: About 20 km (road QL4C)
Elevation: 1 500 m
Where to stay: Dong Van or Meo Vac towns
The best place to see Ma Pi Leng Pass: Ma Pi Leng Viewpoint
What to visit near Dong Van: Lung Cu Flag Tower (about 30 km from Dong Van town)
The closest ethnic market: in Dong Van or Meo Vac
---
icon-map-marker

 Ma Pi Leng Pass in Ha Giang – Map:
Ma Pi Leng pass in Ha Giang – Photos: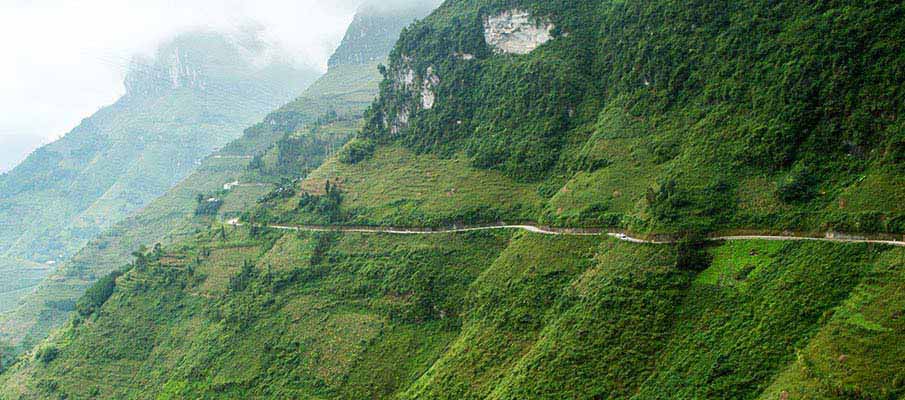 Weather in Ha Giang|Weather in Sapa|Nha Trang|Singapore|Tam Coc|KL to Malacca|Cameron Highlands|Langkawi|Ban Gioc Waterfalls
Ha Giang province icon-angle-double-right