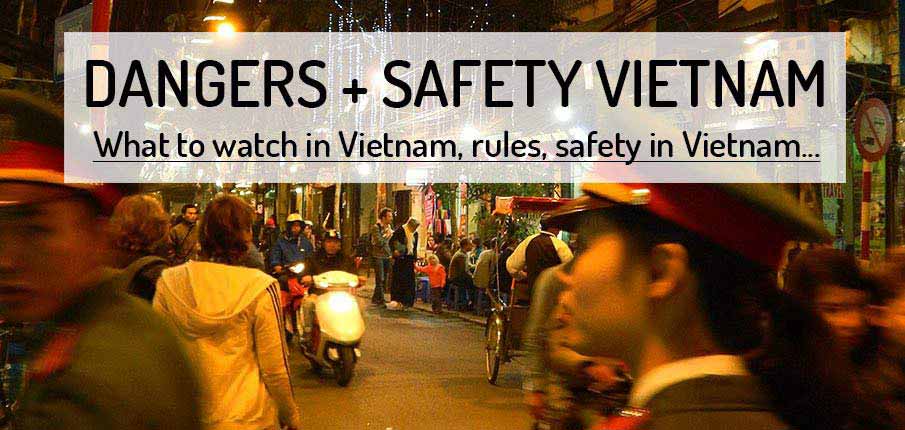 1. Is Vietnam safe country?
2. What to watch out for?
3. Scams and tricks in Hanoi
4. Fake cops in Vietnam
5. Transportation in the city
6. Etnic minority villages
7. If you lose your documents
8. Important phone numbers

What is the safety in Vietnam and what to watch out?

» Vietnam rates as one of the safest countries in Asia. Personally, I feel safer here than many other places in Europe. But it is necessary to watch out, as there are some risks here just as in any other country. The most trouble is petty crime – mainly theft. Do keep in mind that you won't be able to talk in English to the cops and they are often corrupt. The security situation in Vietnam is currently under control.
» You can move freely anywhere across Vietnam, although  some areas, such as entrances to military zones,  are prohibited. Some military buildings also prohibit photographs. In some of the remote villages of the of ethnic minorities in the mountains you will need to go with a guide.
» Ha Giang province – You need to buy a permit, but this applies only for locations 3km from the Chinese border. Permits can be purchased at the Immigration office in Ha Giang or a police station in Meo Vac. Some hotels in this province also offer these permits.

THE MOST IMPORTANT RULES:
• watch your stuff, do not show your electronics too openly (cameras, cellphones …)
• do not leave valuables and money in the hotel room, do make use of the hotel safe
• when paying by credit card, keep the card and the terminal in your view
• pay attention with the taxi drivers, watch out for the taximeter jumping or recording too much, you should expect an average price per one kilometer from 10-15, 000 Dong
• do not talk to people about political issues
• avoid unlit streets at night
• when you visit a village of ethnic inhabitants, be respectful and follow their  etiquette
• do not use drugs
• try to avoid any conflict situations (accidents, fights …)
• do not engage in any anti-government or other demonstration (do no take a pictures)
• the physical possession of pornographic material is illegal
• please, do not make any naked photos in the religious places, yes even in Vietnam, this "trend" was registered 🙂
Watch this video, the most common scams in Vietnam 
icon-angle-double-down
What to watch out for in Hanoi – Scams in Hanoi:

As the capital city of Hanoi is huge, with more than 6 million inhabitants, and so petty crime and tricks for tourists will occur. So be very careful. If you have any problems contact police (phone 113). You can also contact tourist information center in Hanoi, they will probably will help you.
• watch your belongings – do not to expose your cameras and other electronics, somebody can steal these even for example motorbike riders
• beware of taxi drivers – the meter is important to keep the fare low. Taxis to be recommended are: Mai Linh or Taxi Group
• differences in prices in the restaurants for foreigners
• someone offers you drugs in a club (or on the street) – do not take them, you do not know what they could be
• be very careful when moving in the street – the traffic is chaos!
• copy shops and travel agencies – hotels and tourist agencies that are not the real thing but are  under the same name
• when you first go in a hotel room – check the contents in the fridge (they could charge you for items missing)
• anyone who offers you shoe repair or cleaning in the street – after the process they want a rip-off amount money (eg. $ 30)
• a lady in the street with fruit in baskets on her shoulders – they want you to pay a rip-off  rent for the basket (eg. $ 10)
• do not buy bus and train tickets outside the station – scam artists can be selling false tickets
• rental or purchase of motorbikes – carefully check a your motorbike and try a test drive
---
Fake cops in Vietnam:
Yes they exists and they can stop you. If this happens eg. when traveling on a motorcycle, try and stop somewhere on the main street where there are most people about.

• put the keys of the motorcycle in your pocket so they can't take them out of the ignition
• watch how they behave, whether they are in a hurry, or seem nervous or behave  suspiciously
• check their ID > ask for an official badge and see they are wearing their name
• in case of a problem, call the police, telephone number 113
• they are supposed to say hello to you, introduce themselves and treat you politely
BOOK a TOUR in Vietnam with Klook

The Sinh Tourist – a certified travel agency in Hanoi

If you want to buy trips, one option is to use a certified travel agency – The Sinh Tourist (Sinh Cafe). The agency has offices in major cities of Vietnam and also 2 branch offices in Hanoi. But beware! There are several copy branches of this agency with the same or a similar name in Hanoi. The exact address of the agency is: 52 Luong Ngoc Quyen St., Hoan Kiem District (office 1) or 64 Tran Nhat Duat St. (office 2). Branch offices in Hanoi are indicated on the map in the article about Hanoi. Or have a look here.
Website: www.thesinhtourist.vn

TRAFFIC AND MOVEMENT IN VIETNAM:
Traffic in Vietnam is not very safe, but it is actually quite rare to see an accident. Traffic in Vietnam is a "well organized bedlam" . Drivers do not respect the rules and drive anywhere and everywhere there may be a gap. Hanoi has an enormous concentration of motorbikes, the government supports and encourages motorcycle usage. For more information about the transport and traffic in Vietnam go to this section.
• drive slowly on a motorcycle, some roads are unpredictable
• do not use a motorcycle if you are not a good rider
• the roads are sometimes not in good condition, especially in mountain areas
• when crossing roads in Hanoi, be careful, nobody stops
• when you are walking across the road, keep walking and don't stop, the traffic will head for the gaps round you and they expect you to keep going and not stop
• To practice try walking across the road with the Viet people and keep up with them
• treat any bigger vehicle than you on the road as if it has priority over you!
• bus drivers usually drive like maniacs
---
HOW TO BEHAVE IN A VILLAGE WITH ETHNIC INHABITANTS:
• do not use drugs – the use and sale of drugs in Vietnam is illegal
• do not touch the sacred objects
• dress appropriately (long trousers/ pants, dresses…)
• do not drink alcohol in the village and do not be noisy ( you can drink the rice wine with the locals )
• it is not recommended to kiss in the villages
• be careful when taking pictures (especially with the older people and children, ask for permission and then show the finished photo)
• go in to a house only if you are invited (you can also bring a small gift – for example fruit and balloons for children)
• do not give the  money and sweets to children or teenager (give them only small items, or small toys for the children)
• to show appreciation of their hospitality you can buy a handmade object
• if you are invited for lunch or a homestay accommodation – of course do pay

What to do in case of lost or stolen passport?
If your travel documents are stolen or you lose it, you need to contact police and then go to your embassy in Hanoi. It is recommended for the first time to call your embassy.
YOU MUST BRING:
– 2 color photographs with dimensions of 3,5 x 4,5 cm
– police report on the event issued by Vietnam police
– a copy of a lost / stolen passport (if you have one)
– money for payment the fee according to the current exchange rate
---
Important phone numbers and contacts:
First Aid: 115
Firefighters: 114
Police: 113
Information: 116, 1080
Accommodation|Transport|Vaccination|Homestay|Money|Calling|Trekking|Uber|Airbnb|Motorbikes|MaiChau|NinhBinh|Sapa|Da Lat|Hue