BusMap mobile application – Maps of bus routes in your mobile.

After you come in Hanoi or Ho Chi Minh City in Vietnam, you'll find that the transportation by bus in these cities is not so easy. The bus networks in these cities are huge and there hundres of bus stations. It is not to easy for foreigners to use printed version of the bus maps of these cities. Bu, there is a very helpful and great mobile application – BusMap for tourists, expats living in Hanoi and Ho Chi Minh City, but also for Vietnamese residents.
BusMap mobile application is very easy to use, fast and in English.

Why examine hours the printed version of the bus map? Within seconds you will find the desired bus routes on your mobile. How to get from Noi Bai Airport (Hanoi) and Tan Son Nhat Airport (Ho Chi Minh City) to the city centre? How to get from city centers to remote sites? How long do you go with a bus? You can not find a bus stop? The navigation will find it very quickly. Application is not for buying a tickets (You need to buy a bus ticket in the bus).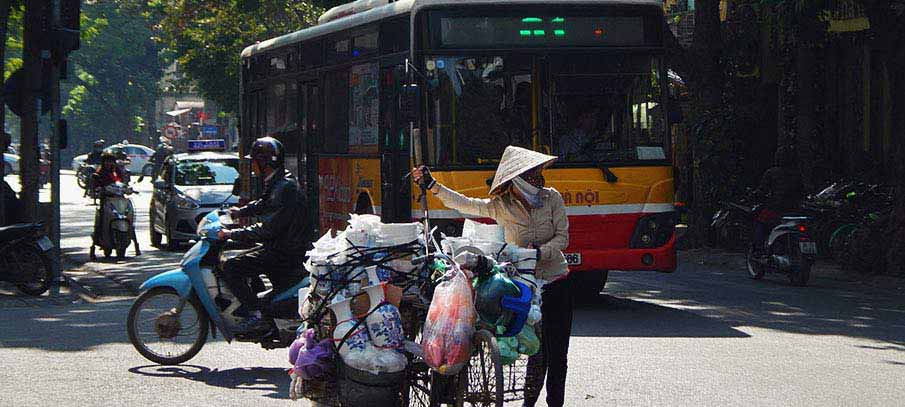 The basis of the
application
is a detailed map of bus stops and routes.

1 application is created for Ho Chi Minh City and 1 application is for Hanoi (application for Hanoi is in a version for Android, iOS version is in development). The application is actually a detailed map of cities (Hanoi-Ho Chi Minh City) where you can zoom in to see displayed bus stops nearby. BusMap application is very simple, fast, clear and intuitive, and in English (and Vietnamese).
1. After the map is loaded, you can zoom in (turn on your phone to detect the location)
2. Click on the selected stop (green bus icon) to see the passing buses
3. After pressing the appropriate bus, the map of the bus route with information is loaded icon-angle-double-down


1. Viewing the full entire route in Hanoi and passing bus (green line)
2. In the "Information" is detailed route information (ticket price, route length, stops …)
3. Mobile menu with these information – update bus data, language settings, ratings, feedback… icon-angle-double-down


1. You can locate the place on the map that you specify (eg. Noi Bai Airport)
2. Search for locations and bus stops nearby (after pressing the round button icon-plus-circle displays the "Direction" and "Lookup" (Direction – use it to specify where you want to go, Lookup – use it to display all bus lines and routes)
3. Press "Direction" and specify where you want to go and see a map of the route and other information icon-angle-double-down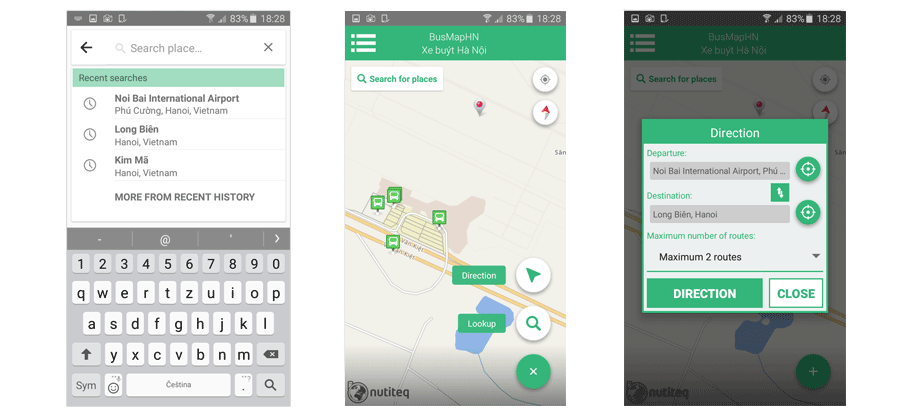 1. "Direction" will offer the numbers of the nearby passing buses and the route length
2. After selecting the desired connection you will see a route map
3. After selecting the end station you can find additional bus routes and the passing buses icon-angle-double-down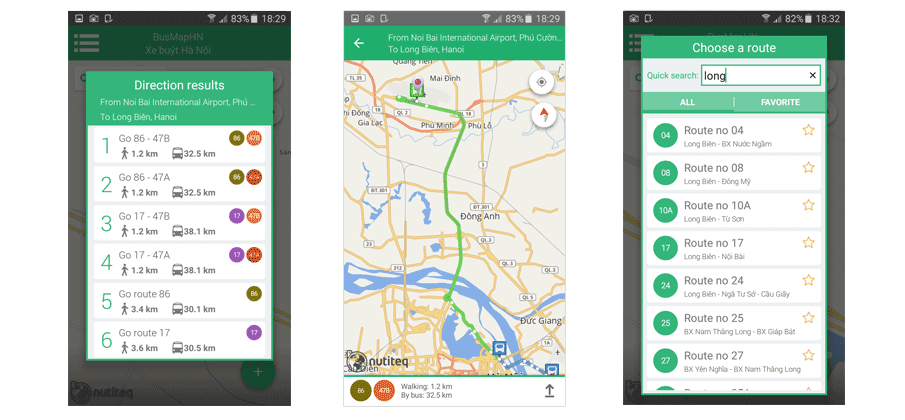 Information about the BusMap mobile application:

> BusMap mobile application is very well controlled, easy to use, it is clear, fast and in English
> detailed information about the bus route in Hanoi and Ho Chi Minh City (stops, ticket price, route length…)
> it is not intended for the purchase of bus tickets (you have to buy a bus tickets in the bus)
> this application runs also offline
> App is completely free, no registration is required
> 1 applications separately for Hanoi and 1 for Ho Chi Minh City
> find nearby bus stops in your location

Download the BusMap mobile application

icon-angle-double-right BusMap for Hanoi > Android icon-angle-double-right BusMap for Ho Chi Minh City > Android + iOs + Windows

Website: Busmap.vn (you can search for the bus routes in Ho Chi Minh City on the website)
Facebook: Facebook.com/busmap.hcm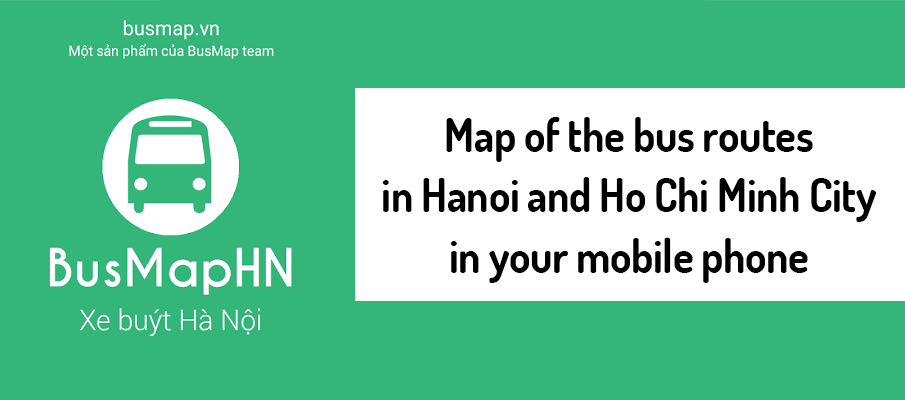 Accommodation|Transport|Visa|Da Lat|Homestay|Motorbike|Bangkok|Ninh Binh|Ha Long Bay|Train tickets|Sapa|Hue|Saigon